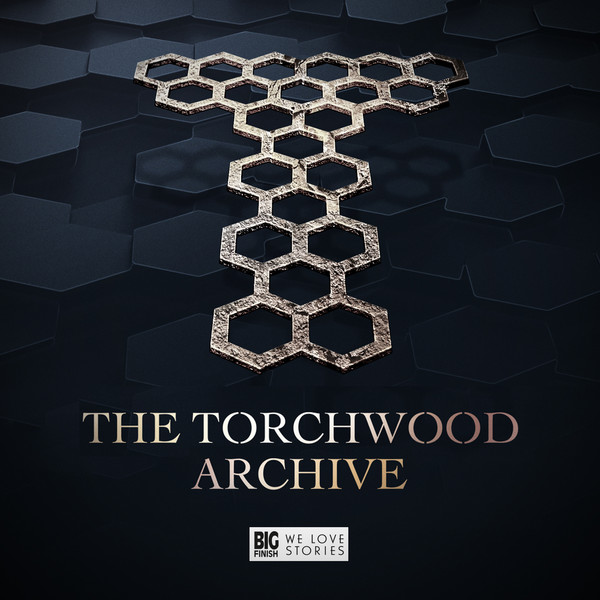 Released October 2016
Ten years is a significant milestone for any franchise, and though the up-and-down televised years of Torchwood seem to be over for the foreseeable future, Big Finish has kept the light growing bright with their recent run of audio dramas. This has allowed the programme to more fully flesh out its mythology while revisiting characters who have previously met an untimely demise, and while it must have been tempting to bring together every character for a flashback or other contrived means of celebration, 'The Torchwood Archive' takes an altogether more intriguing route of celebrating the success of the programme and its characters in both television and audio mediums.
Indeed, although this tale references several aspects from the recent audio sequence, most importantly the allusive and elusive Committee, listeners are absolutely not at a disadvantage if they come into this story with little or no audio experience thanks to writer James Goss's masterful implementation of subtle context. Instead, some of the finer details come from references to specific television episodes, and the balance between the franchise's two formats is likewise balanced by a nuanced streak of humour beneath the very serious situation- or collection of situations- at hand.
The most intriguing aspect of Torchwood and its characters is that, essentially, they all remain so largely unexplored. Aside from the mortality of certain characters, there are few events set in stone and unquestionably vast areas through time ranging from Queen Victoria to the far future that are ripe for more stories. With the benefit of hindsight, Goss is able to tie together several disparate threads from Torchwood's canon into a cohesive whole while further studying both beloved and lesser-known characters and their relevance to events in the past, present, and future. The sheer number of characters involved in this audio, whether in a brief cameo or a lengthier sequence, makes this the epitome of a love letter to the fans, and every actor involved gives his or her maximum effort to capture the original spirit perfectly.
The series of vignettes that expands upon the show's history while setting up future storylines makes a perfect entry point for both newcomers and long-time fans alike, the Archive itself serving as a wonderful plot contrivance to interlink these tales as Jeremiah undertakes his investigation into Torchwood's past with intent to destroy its last memories. The story's biggest triumph, though, is finally providing some answers regarding the Committee which has been such a recurrent part of the new audios but never really carried as much weight as it might otherwise since those audios are so vastly distinct. And although full resolution is not offered, the insight given into its foundation and purpose is nonetheless fascinating and certainly something that will continue to be addressed in upcoming releases. The post-scenes tease and the recurring return of the bad penny are sure to become more important in the near future as well.
For those willing to pay attention to the multiple stories within this release, the end result is rich exploration of ten years of Torchwood in all of its different forms. It may not be a celebration story in the classic sense where everyone returns to act beside each other, but 'The Torchwood Archive' is a masterclass in the use of vignettes to capture the spirit and essence of Torchwood, expanding its mythology while proving that there's plenty of life left in the franchise.