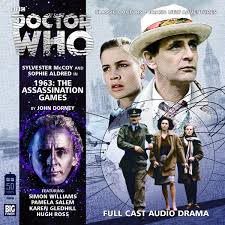 Released November 2013
'Remembrance of the Daleks' is one of the seminal stories of the Sylvester McCoy televised era, and Group Captain Ian Gilmore, Professor Rachel Jensen, and Doctor Alison Williams were so well fleshed out and characterized within the confines of that tale that they practically begged for their own series of adventures right from the start. Wrapping up Big Finish's 1963 trilogy, change is sweeping through Great Britain in November 1963 as it tries to maintain its prominent international role while technology sweeps away the old guard and political scandals and assassinations dominate the news, and Group Captain Ian Gilmore is struggling to get his Counter-Measures group started.
Of course, Counter-Measures has been another successful Big Finish audio range since 2012, and so '1963: The Assassination Games' has an incredible amount to achieve as a political thriller that captures the essence of the Seventh Doctor era while also serving as both a bridge to the spin-off and an origin story of sorts for the Intrusion Counter-Measures Group. Wisely, writer John Dorney places the Seventh Doctor and Ace initially into the background, taking full advantage of the more shrouded and manipulative nature of this incarnation of the Time Lord while giving its guest cast plenty of time to shine and also introducing political backer Sir Toby Kinsella.
With Britain in control of Starfire, a nuclear missile that can cause incredible damage with minimal fallout or repercussive damage, and tensions rising around the world, Dorney expertly captures the paranoia, hypocrisy, and lies that filled the era to create an immensely atmospheric tale. The script briskly and masterfully moves along as it deftly incorporates different nuclear agendas and protesters, rather overt references to the Profumo scandal that was so prevalent at the time, undercover espionage work, and eventually alien technology and otherworldly creatures. It's a testament to the writer and the production team as a whole that the sense of the period and time remains constant throughout, and the threat of personnel duplicates and a potential third World War ensure that the stakes and tension remain dangerously high from beginning to end.
Simon Williams as Gilmore, Karen Gledhill as Williams, and Pamela Salem as Jensen all recapture their roles effortlessly, an innate chemistry and respect underlying their dealings with the dangerous and fantastic. The introduction of Hugh Ross as Kinsella is handled wonderfully as well, and though this is a very early story in the Counter-Measures chronology, there is already a very established feel about the team even with Gilmore and Kinsella getting more of the action here. They work incredibly well against the Seventh Doctor and Ace, and it's quite easy to imagine this as a missing Doctor Who serial that also firmly proves how capable the Counter-Measures team is on its own merit as well.
While Sylvester McCoy is not as prevalent as might be expected in an 'anniversary' story, he absolutely dominates every scene he is in, seemingly always one step ahead of the complexities and treachery playing out before him. The large supporting cast and double roles can sometimes make events a bit more difficult to follow than usual, but '1963: The Assassination Games' is a brilliant political thriller that evokes the atmosphere of the era and keeps the intrigue and twists coming expertly. This is a format that Doctor Who rarely explores, but this story easily combines the very different feels of Doctor Who and Counter-Measures to great effect, creating a strong example of how both franchises that can coexist both independently and together.