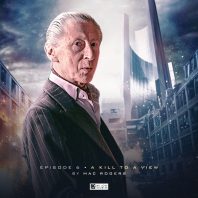 Released October 2017
SOME SPOILERS FOLLOW
After the coital escapades that pervaded the lighter overall stylings but strong characterisation of 'Love Rat,' Aliens Among Us performs an abrupt about-face with Mac Rogers's 'A Kill to a View' to deliver an intensely intimate exploration of the reserved Mr Colchester as his personal and professional lives collide. With Cardiff's streets increasingly troubled as the bigotry and economic and political climates continue to worsen, Ritz Towers seems like a beacon of safety, but in a building with more tenants than flats and a very mysterious caretaker, safe is the one thing this building is not.
Paul Clayton has been a revelation in this series, the dry and sardonic humour of Colchester often masking a truly brave but utterly vulnerable man who is intensely caring and devoted to those in his life and who is willing to take the ultimate action to protect those in need. As the Ritz Tower and the enigmatic figure behind it who refuses to sell to the Sorvix come to light, the mystery behind the continued influx of tenants into a building where nobody ever leaves and where dinner parties are all the rave intensifies and becomes a very personal source of concern for Colchester. Several small moments in earlier stories have revealed just how much Colchester is truly in love with his husband Colin, and Clayton and Roman Tikaram have an immense chemistry that brings that partnership to life spectacularly whether during more intimate conversations in bed or simply discussing dinner plans. In many ways, Colin is quite reminiscent of Rhys as a man who understands that there will be times when Torchwood comes first, and he quickly makes a mark as one of the most good-natured and well-intentioned individuals within this ever-darkening city where he is increasingly under unfair scrutiny because of factors out of his control.
As the cover to the story suggests, Murray Melvin reprises his role as the one-time servant of Abbadon, Bilas Manger, and he here brings that same understated sense of menace to the role that made Manger so instantly popular on television. This is a character closely intertwined with the Rift, and so another plot on the former site of the Ritz dance hall to utilise this power and its connection to other times and places is not entirely unexpected; however, his oversight of the deadly game the tenants play to continue their ascent to better and better flats is shockingly personal in nature and plays on the darker side of human nature immeasurably well by wonderfully contrasting the forced niceties of dinner parties with the intrinsic horrors of everyday utensils and the claustrophobic confines of flats in the right conditions. Even with Colchester knowing what is coming and trying his best to keep his husband safe while remaining in control of the situation and trying to find a commonality for a mutual understanding, the final outcome is truly harrowing and unfolds as one of the most emotional and effective scenes of this series to date, the fallout of which should continue to develop alongside Colchester as events continue to progress.
'A Kill to a View' makes the bold choice to largely step away from the Torchwood team as a whole and to instead deliver a remarkably in-depth exploration of one of the newer members who has already made such a resounding impact in a professional capacity. With an immense supporting cast and a completely engrossing story that presents more of a continuation of the Bilas Manger storyline than the Sorvix one, Paul Clayton steps into the spotlight spectacularly and pulls the shroud back on the true emotion and thought processes motivating this captivating and sympathetic figure. This is a strong drama of the complexity of human condition even in isolation of the series's bigger themes bubbling in the background and represents yet another unqualified success in the continually strong Torchwood audio outings.