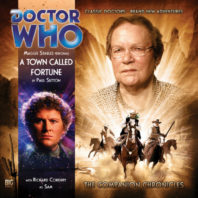 Released November 2010
Maggie Stables and Colin Baker quickly became the definitive audio pairing in the early years of Big Finish, offering a mature and respectful relationship that teemed with vitality and an appreciation for life and adventure that is so often taken for granted. With Paul Sutton returning to script for Evelyn Smythe following the superb 'Arrangements for War' and 'Thicker Than Water' as Stables helms the narration, this foray into Big Finish's main range continuity with 'A Town Called Fortune' arrived with high expectations and the potential to develop one of the less-explored genres in the process, the Western.
'A Town Called Fortune' uses one of the more intriguing framing devices in The Companion Chronicles to date as two Evelyn and Sam recount the facts of a recent adventure to ensure the details are correct as police approach for questioning. This isn't a story with a temporally unexpected science fiction element, and so it's not surprising that many mainstays of the genre are present including a saloon, a corrupt mayor, and a well-meaning but dejected lawman in a city where crime and punishment are not necessarily linked. Fortune is an isolated shantytown founded on mining with railroad the only feasible means of travel to other locales, and the mysteries surrounding the death of Rachel Ann Donovan's father whom she is looking to avenge as well as of the Doctor's face appearing on wanted pictures despite never knowingly traveling here before help bring an added element of intrigue to what at times plays out like a checklist of clichés filled with American accents that work to varying extents.
Having Evelyn take sole lead of a story is a masterstroke, and Maggie Stables more than capably steps into the spotlight to bring her empathetic and supportive companion who always sees the best in those around her to life once more. She is not afraid to stand up to the Doctor and even subtly request some time away from him as she tries to get to know Rachel Ann and her plight, and it's fitting that it's her inherent honesty and perceptiveness that allow the hidden truth of Fortune's origins to see the light of day as dark pasts and motivations are likewise revealed. Evelyn is squarely thrust into the middle of the action in this tale, and her dedication to the truth more than compensates for any physical attributes that may have diminished over the years, proving once more the calibre of companion and person in general she truly is. Of course, Stables complements Evelyn with a boldly theatrical take on the Sixth Doctor that is clearly grounded in affection as he explosively inserts himself into the story, and the script helps to wonderfully recapture the superb dynamic these two share even if the Doctor is not the featured character like usual.
The cliffhanger may be one of the most terrible in Big Finish's long library, but this is just a minor- if memorable for all the wrong reasons- blip in a story drenched with atmosphere. The soundscape effectively evokes the Western locale, and the immersive descriptions ensure the audience experiences every element to its fullest. While the actual story itself is fairly standard and does little that is actually unique, the intimate exploration of the sheer humanity that is so fundamental to Evelyn's very being is brilliant and helps elevate this to a tale that will surely remain memorable regardless of any individual's feelings about this particular genre.