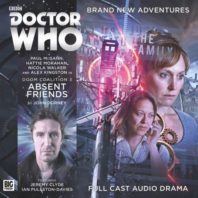 Released September 2016
Following in the footsteps of Doom Coalition 2 which began with a mostly standalone tale that set the pieces in motion for the overarching narrative that would bring the Eleven and the Sonomancer together, Doom Coalition 3 begins with a more isolated character piece in John Dorney's 'Absent Friends.' Back in late twentieth century Earth as the mobile telephone is gaining popularity, the Doctor and his companions soon find themselves in the middle of a mystery as the losses of the past continue to reassert themselves.
Naturally, the march of progress in this instance brings with it the unsightly addition of a new transmission mast to the landscape which has the locals up in arms, and to appease that pushback, the peculiarly-named mobile company is handing out free telephones to everyone in the area. However, these gifts that have been so gladly accepted bring with them undesired results as friends and loved ones that have been long dead suddenly resurface on the other end of incoming calls. This is a simple idea in concept, but realising the intense emotions that result from suddenly being confronted with those whom one can never forget is an incredibly effective plot point that is used to magnificent effect as this unassuming group of citizens is suddenly fleshed out in much more detail than any other conversation could ever allow.
Aside from dynamically fleshing out this setting and its denizens, however, 'Absent Friends' also makes superb use of both of the Doctor's companions and perfectly encapsulates just how very different the two are and how self-interest can sometimes be the biggest motivational force. Helen, understandably, is excited to realise that she has arrived just thirty-five years into her personal future and that her own loved ones must still be alive, giving into temptation and visiting her brother under the guise of being his niece. While emotions blinded her to the potential ramifications of taking this course of action, she is blindsided by the realisation that her family believes Helen to be guilty of the crime she was accused of since she disappeared without a single word and by the fact that they have decided that Helen must want nothing to do with them as they have been forced to cope with the tarnished family name she brought upon them. Yet while her immediate future was ambiguous and could have been changed, by meeting her brother and learning of the hard feelings that still exist because of her total desertion of them she has solidified this narrative and unknowingly ensured that events must always play out this way with no chance for her to recant or alter events, a stunning realisation after an incredible sequence with Jeremy Clyde that Hattie Morahan plays pitch perfectly.
As the Doctor refuses to answer the phone while mysteriously proclaiming that he knows who would be on the other end, Liv likewise must confront her past when the voice of her deceased father re-enters her life. Though Helen inadvertently creates personal tragedy by solidifying her own absence without being able to explain why she as her own daughter had not previously tried to contact her family when asked, Liv has been living with the tragic fact that her father died because of a misdiagnosis while she was away working, and the moment in which she realises that she has the opportunity to fix her biggest regret is likewise played to perfection by Nicola Walker. scenes like these are myriad throughout the story and played with grace and nuance by all involved, and the subtle score only enhances the profound rush of conflicted emotions on display. 'Absent Friends' isn't a story with an overly complex plot or a bevy of actions sequences, but the monumental character development that pulls no punches makes for an utterly superb tale that ranks among the Eighth Doctor's best, and the strange clock that allows those from the past to talk to those in the present establishes an interesting hook leading further into this third set of stories.