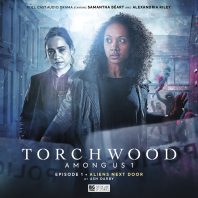 Released May 2023
SOME SPOILERS FOLLOW
Nearly four years after the conclusion of God Among Us, Torchwood returns for its seventh series with the aptly-titled arc Among Us. Torchwood is on the run with its members separated or altogether missing, and in Ash Darby's 'Aliens Next Door,' Orr and Ng are monitoring the allegedly monstrous affairs of a quiet cul-de-sac.
With the focus on just two members of this iteration of Torchwood, Darby is able to create a much more intimate scale and tone than is often possible in larger ensemble pieces. It also allows for certain guest characters to feature all the more prominently, and Melanie Kilburn perfectly embodies the neighbourhood busybody, Betty, who is the personification of gossip and who cannot help but study and comment on the actions and tendencies of those living their own lives around her. Naturally, Bettty is used as a source of information distinct from the personal monitoring of Ng and Orr and their data collected over time, and while Betty initially comes off as harmless, certain actions and words suggest that there is a certain bigotry and sense of superiority at her core which comes to have a much greater influence as events take a far darker turn.
Indeed, while Ng and Orr are quick to give unflattering nicknames to those they are watching, 'Aliens Next Door' subtly reveals just how much an individual's actions and thoughts can be influenced by others. Whether through verbal, physical, or subconscious cues, people are always in contact with each other and have the ability to impact certain trains of thought both subtly and more overtly. Unfortunately for Orr who is so implicitly and empathically bound to the emotions of others, this neighbourhood is one that is unknowingly being nudged toward darker and more dangerous thoughts and actions, and at a time when she is wondering what her role in Torchwood is amidst humanity and if she truly has any friends, this nudging and Ng's decision to bring her here reframe everything she has so far accepted as fact.
Within this confined environment, some of the darkest elements of humanity are able to come to the fore, and Raj Ghatak gives an incredibly nuanced performance as Hakan who seems to be on the receiving end of so much of the hatred. From insinuations that he is a pedophile to people urinating in his postbox, stoning his cat, and even burning his home, Hakan emotionally suffers a tremendous amount, and while the revelations about his past line of work dedicated to altering people's perceptions by nearly any means possible do seem somewhat convenient in terms of explaining the target that is so squarely on him, they nonetheless represent a frighteningly powerful and imperceptible danger within society that is sure to fuel paranoia all the more. That not everyone is subject to external forces and that some individuals simply harbour disdainful thoughts of their own accord ensures that the message of the story is never forgotten and adds a palpable resonance to a story that is already so visceral and frightening.
'Aliens Next Door' takes quite a long time to set its plot in motion with little meaningful characterization even of Ng and Orr initially, but by its end it provides a suitably strong reintroduction to this version of Torchwood and two of its most unique members. Samantha Béart and Alexandria Riley easily return to their roles after so long away, and though little is mentioned about the current state of Torchwood beyond stating that Jack is missing and that perhaps it is time for the organization to go public once more even as the two members take drastic action here, the groundwork has been laid for a momentous reunion within this world that is still trying to pull itself back together and that seemingly has a nefarious new villain working to guide events from behind the scenes.