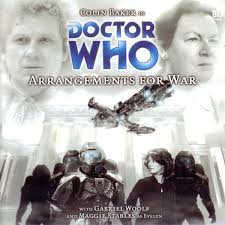 Released May 2004
The Doctor Who television series rarely took the time offer its companion characters any substantial room for growth or development, instead choosing to focus on the overall story at hand, but that started to change with Ace on screen and then Virgin's The New Adventures range and has continued to some extent in Big Finish's audio range. For the most part, this is still limited to their own creations, namely Charley, Erimem, and Evelyn, but 'Arrangements for War' offers by far the greatest insight into and development for any companion yet, possibly in any medium.
'Arrangements for War' picks up the threads dealing with the aftermath of Cassie's death in 'Project: Lazarus' which has severely strained the relationship between the Sixth Doctor and Evelyn. This is a risky script essentially featuring four episodes of reflection and could have failed miserably, but the result of Evelyn wanting some time alone from the Doctor and both separating for a time on the planet of Vilag, forming new relationships and learning more about each other in the process, works immensely well.
Though this is very much a story about Evelyn, the story is first framed as if it will be about politics and war as the title suggests. The planet of Vilag is composed of one landmass divided into three nations, with the nations of Gilendia and Malen having recently formed an alliance and threatening to destroy the Killorans. It's a bit heavy-handed, but it effectively sets the scene for the background of this story and allows for the more integral components of the story such as Evelyn's relationship with Rossiter to form and progress.
While Evelyn has briefly mentioned her heart condition before, she goes into much more detail and opens up about it much more than previously. She knows that she is dying and that she has enjoyed traveling with the Doctor so much because it allows her to forget the more serious issues of her life. Still, she has not yet told the Doctor about her condition because she is afraid he will take pity on her and put an end to her travels. This is where Rossiter, with an outsider's perspective, proves most valuable, as he makes her realize just how important her friendship with the Doctor is even despite the recent rockiness. Just as Rossiter is able to open up about his grief because of his wife, Evelyn finds it easy to open up to him about her own grief regarding Cassie and Jem, giving great insight into both characters without feeling forced. Their friendship progresses so easily and naturally that it's easy to believe Rossiter would ask Evelyn to stay with him and to leave the Doctor, though it also makes sense that Evelyn is not ready to do so at this point.
Gabriel Woolf's Rossiter is easily the standout star of this release. He is inherently amiable and sincere, putting full faith into Evelyn and taking her advice regarding the politics of his nation to heart even though she is unable to explain how she gets her knowledge. With her foreknowledge of the Killoran invasion, Evelyn is effectively put in the Doctor's usual position as she tries to steer events into to an amicable solution but finds herself meeting hurdles and unable to explain herself along the way.
Continuing with that theme, the Doctor finds himself more in the position of companion in this tale, becoming rather attached to a supporting character along the way, in this case Princess Krisztina. He's in a rare situation where the people become more important to him than the pervading sense of war and danger, and it's touching that he's able to arrange the assignment of Krisztina's secret lover Reid to her. This puts the arranged marriage and alliance in jeopardy, causing the Doctor to have to reflect upon his own actions. Through a series of heroic and tragic events, both characters end up losing their lives, lending a Shakespearean essence to the story, and it's the overwhelming emotion and heartbreak that overtakes the Doctor that provides the impetus for reconciliation between Evelyn and him. It's through the following events that a sort of peace and resolution is attained, giving this pairing a fresh lease of sorts on adventuring in the future rather than being tied down to the aftereffects of the tragedies they have witnessed together.
Colin Baker and Maggie Stables are on top form as usual, Baker particularly strong in the afore-mentioned scenes when Krisztina dies, but the supporting cast is just as strong throughout. Katarina Olsson's Krisztina is very practical and proves quite good at suppressing her emotions when needed to satisfy the common good, and Lewis Ray's Corporal Reid and Philip Bretherton's Suskind provide strong counterpoints in love and tactics, respectively. Suskind becomes the villain of the piece in a sense as he tries to defeat the alliance, but he is strong enough to explain his actions and admit his mistakes when he is proven incorrect. The strong characterization throughout is very effective in progressing the emotional story.
There's very little to complain about with 'Arrangements for War,' though its pacing and reflective nature certainly make its style more effective as a rarity rather than as a staple in the Big Finish library. It's rare that a companion gains so much insightful focus as in this story, but Evelyn is certainly deserving and Stables makes the most of the opportunity, cementing and strengthening her bond with the Doctor in the process as they both make some semblance of peace with their past.