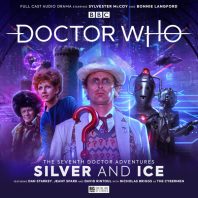 Released June 2022
SOME SPOILERS FOLLOW
In 'Bad Day in Tinseltown' by Dan Starkey, The Doctor and Mel arrive in the frontier town of Brightedge, a place nicknamed Tinseltown because of the strange silvery by-products from its depleted mine. The Mayor is sure that there is a future in the entertainment industry for this town, but the Cybermen have decidedly different ideas for this locale and its people.
The televised season with the Seventh Doctor and Mel is one of the classic series's most ostentatious, its larger-than-life settings and performances creating a unique balance between drama and cartoon that allowed this particular incarnation of the Doctor to find himself while slowly taking on a darker and more manipulative role. In that vein, this frontier setting that is slowly falling apart but that is laden in shining, silvery tinsel is a perfect fit for a story set within this era. The Doctor describes this town as being on the wrong side of the thirtieth century, and the denizens of Tinseltown who are trying to remain viable as economic pressures and markets have changed use their copious silver ore to help with every element of everyday life. Unfortunately, despite that evocative visual, the use of a frontier setting brings with it every expected Old West stereotype with nothing that Big Finish hasn't included in every previous story with similar backdrops. Dodgy accents, a dingy saloon, and characters on edge and prone to violence all make an appearance for better or for worse, meaning that there is little that is surprising as even the appearance of the Cybermen is hardly shrouded and follows a plotline of multiple iterations that has been done elsewhere with both Cybermen and other foes. The entertainment industry foundation is a unique slant at least, but even the story seems to realize that this has little to offer when Mel who is pretending to be an entertainment journalist looking to write a story about the saloon is asked to interview performers and receives decidedly unenthusiastic and nondescript answers in response that sap far too much of the story's energy.
It's difficult to recommend this story having an expanded running time, but the intriguing war with the frontier worlds element is completely underdeveloped and unexplored, requiring far more time to allow General Juno's reveal to fully resonate or else needing to be excised completely to allow Brightedge as single entity in and of itself to focus more. Jeany Spark is incredibly energetic in her dual roles of Carol Protraxus and General Juno, and she plays off an equally animated Sylvester McCoy and Bonnie Langford exceedingly well, but even these performances, the engaging sound design that fully leans into the Old West themes, and the eerie vocals of multiple generations of Cybermen chanting in sync can't overcome the very generic plotline. Still, with the Seventh Doctor having focused less than other incarnations during COVID recordings, having him so directly engaged with the story and the setting without steering events from behind the scenes is a welcome development that likewise stays much more in line with the character's earlier characterization and successfully hints at how dynamic the pairing of Mel with him can continue to be no matter the situations they confront.
Ultimately, 'Bad Day in Tinseltown' is a story driven by its central performances and the highly visual nature of its script that spectacularly culminates in the explosion of a Cybership. In isolation, there is plenty to enjoy in this two-part story, but the reliance on too many frontier cliches that Big Finish has featured far too many times already as well hints at a storyline that could have been far more rewarding than what was presented if allowed the time for proper exploration make the experience a very uneven and frustrating one given the strong elements in place.