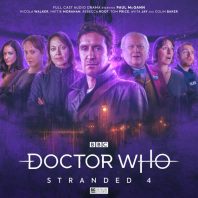 Released April 2022
SOME SPOILERS FOLLOW
The Doctor and his companions have aborted the alternative 2020 timeline, finding themselves in London at the peak of coronavirus restrictions as Stranded 4 closes with John Dorney's 'Best Year Ever.' Forced to endure the loneliness, frustration, and monotony of everyday life with isolation and social distancing while the TARDIS repairs, the companions realize that this is something even thevDoctor cannot fix, and Liv and Tania understand that they each have a major decision to make.
As suspected following the conclusion to the previous story, 'Best Year Ever' serves as an extended coda to the main narrative of Stranded, forsaking plot to instead focus on its characters as they must come to terms with this reality and the conflicting memories of lives once lived. Of course, the Doctor has never been one to sit idly around, and so it's perhaps unsurprising that he has the hardest time adapting to the forced isolation. In many ways, this restlessness and agitation mirror events of the Stranded 1, but whereas there was an obvious mystery and problem to uncover and solve to drive him there, his decision to remove himself from these events by simply staying in the TARDIS for the better part of the year is a surprisingly abrupt decision that doesn't really take into account the joint suffering of everyone else. The Eighth Doctor is often portrayed as the most human of incarnations, and while his desire to not be constrained is understandable and tangible, it does come off as harsher and more dissociative than likely intended after everything these friends have been through together.
The Doctor's chosen recusal, however, does allow the expanded cast of Stranded to focus more prominently, and doing so with the backdrops of masks, social distancing, bubbling, Zoom calls, furloughed workers, and panic buying is a decision that makes these lives all the more relatable. Wisely, this story does not focus too overtly on Robin despite the new trajectory his life is taking as he reconciles with his father and Helen, but it is nice to see that he is sincere in his desire to do better by looking to turn Divine Intervention onto a better course, a plan that Tania and Andy are all too eager to join. Joel James Davison imbues a bit more happiness and even optimism to the character than has been allowed to this point, and this teenager who has been through so much while also coping with the standard influx of emotions of this age concludes on a very positive note. Additionally, with Ron not surviving long in this world to sadly invert the loss featured in 'Snow,' Jeremy Clyde is fantastic as a man forced to grieve in these most difficult circumstances while remembering and celebrating the incredible life of his partner. This performance is further contextualized by the deepening bond between Aisha and Zakia given their shared knowledge now, and Amina Zia and Avita Jay likewise highlight just how strong this entire cast is no matter any individual characters' ultimate role in this saga.
Of course, having Liv and Helen forced to remain in one place for a year means that each must reflect on her own thoughts and desires after traveling with the Doctor for so long. Intriguingly, Tania quite adamantly proclaims that her place is here in this one time, creating a complicating layer of complexity for Liv who has very much thought the opposite of herself for so long. Stranded has slowly but realistically built up the relationship between these two characters, and though each is acutely aware that the alternative timeline does not guarantee anything here, Tania's continued fears that Liv might actually leave her and Liv's own conflicted thoughts are both engaging sides of this conflict that Nicola Walker and Rebecca Root have consistently portrayed so well. Unfortunately, 'Best Year Ever' flubs the ultimate execution by having Liv decide to leave with the Doctor before- from Tania's perspective- instantly returning from more travels to assumedly remain here with her. While it's unclear what exactly Liv was doing or for how long when finally aboard the TARDIS once more, the means by which her absence is portrayed here cheapens her purported feelings for Tania and doesn't allow any time for the impact of her departure to really sink in for Tania. These may ultimately be expanded upon in future stories, but this is a significant misstep in the moment that tries to accomplish everything while sacrificing all possible genuine emotion. Nonetheless, the story's focus on this relationship as a whole is a wise narrative decision, and with Andy likewise delivering an emotional farewell, it certainly seems as though this is the ending of the Doctor's travels with this group of newer and long-standing friends alike.
'Best Year Ever' is an emotional story that makes the most of its real-world setting and coronavirus restrictions to offer yet another brilliant exploration of the many characters and lives that have made Stranded such a success. The Doctor's self-imposed absence and Liv's ultimate decisions are fairly glaring missteps that prevent this coda from reaching its true potential for emotional exploration, but there's no denying that these interlinked human lives and the expansive narrative they have led through four Stranded box sets have always been the prime focus that rightfully receive one final shining moment within these circumstances that could never have been imagined when this series to be set in 2020 was first pitched and originally developed.