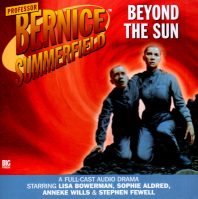 Released September 1998
Following the incredibly successful introduction to Bernice Summerfield in the unique and powerful 'Oh No It Isn't!,' Big Finish turns to a more traditional tale that boldly brings Bernice's past into contact with her present in 'Beyond the Sun.' Drawing the short straw and forced to take two overlooked students on their very first dig, Bernice soon finds that she must guiltily accept the crazed insistence of her ex-husband Jason that he is in deadly danger when he is kidnapped from his hotel room, taking it upon herself to save him from his own mistakes with her only clue a dusty artefact that Jason claimed was once part of a powerful ancient weapon.
Sadly, 'Beyond the Sun' is a distinct step down in quality from its predecessor and is highlighted by clunky and at times painful dialogue and awkward insertions of otherwise-intriguing diary entries that instantly take away from any momentum that had been built. This is a story with a lot of scene changes and genuinely intriguing action that should create a true sense of scope and danger, but the awkward signalling of a scene change through dialogue and the rather underwhelming and uninspired sound choices to bring the many vehicular attacks to life throughout never allow that potential to fully be realised. With lengthy segments relying solely on dialogue with no accompanying music, the entire production is a much more barren affair than the high bar Big Finish set for itself from the outset, and the end result suffers accordingly since no genuine emotion or immersion can fully be created.
That said, the characterisation of both Bernice and Jason is superb, and Lisa Bowerman effortlessly brings Bernice's well-founded distrust of her ex-husband to the forefront with conviction. With her students bringing out an unexpectedly maternal side to her character, the greatest discovery that Bernice makes is that she still deeply cares for Jason and may even still love him as she proves willing to sacrifice her life for his as she endeavours to maintain a high moral code no matter how violent the world around her gets. And although Jason is a man who will never completely reveal his hand and say the ultimate truth even to Bernice, Stephen Fewell manages to imbue an immense amount of genuine emotion into this rogue to make Bernice's sentiment wholly believable right from the start, and the interplay between these two is quick and natural.
Unfortunately, the remainder of the characterisation falls rather flat and doesn't quite live up to the excitement that the diary extracts manage to create, especially regarding the students whose voices and tonalities often verge on grating. While the performances contribute, this is primarily due to the dialogue itself since the majority feels forced and as if it is present simply to serve a narrative purpose rather than to allow any organic exploration and growth of the characters, and Lewis Davis's Emile's coming-of-age story as he comes to terms with his sexuality suffers immensely for this reason. The personal growth that Jane Burke's Tameka is forced to undergo as she comes to look beyond herself through her need to protect Emile works in concept but not execution given the rather stilted progression, and the character she appears to become by story's end does little to suggest that this growth was for the better. With forced 'adult' moments that seem unearned and uncomfortable, 'Beyond the Sun' is filled with an unsteady tone and with far too many questionable motives and actions with little actual explanation or explanation to truly resonate.
However, while the Ursulans themselves hardly prove to be the most interesting alien race, the performances of Barnaby Edwards, Nicholas Pegg, and Anneke Wills are perfectly engaging, and the struggles of these seemingly ordinary people certainly provide a needed anchor for a story that rather surprisingly fails to develop the true Sunless villains. Their plans are voiced through the rather ill-developed Miranda played by Sophie Aldred, but even she seems to have a shifting position and sense of motivation throughout, making her simply another example of the story's immense ambition that has all of the proper pieces to succeed but that fails to put them together into a cohesive and satisfying whole to reach its true potential.