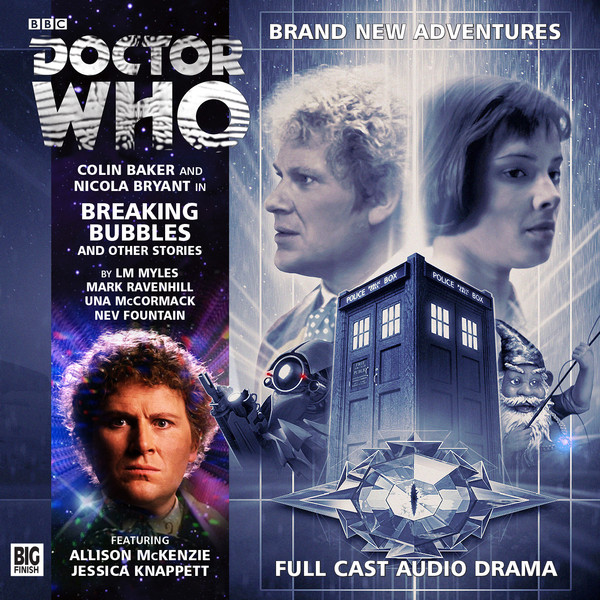 Released July 2014
2014's Big Finish anthology release 'Breaking Bubbles and Other Stories' reunites Colin Baker and Nicola Bryant for four one-part tales structured around the concept of perception.
'Breaking Bubbles' opens the proceedings in a botanical garden aboard a prison spaceship transporting deadly, sentient beings. As the Doctor and Peri find themselves trying to decide if Safira Valtris, a deposed emperor who then led an illegal coup against her cousin, is deserving of her war criminal label, the script wisely avoids giving definite answers, playing with perception of the character and the setting wonderfully along the way. Jemma Churchill does well portraying the ambiguous nature of Valtris, creating a character who believably goes between harmless desire for freedom and dangerous willingness to engage in violence, and Nicola Bryant seizes the opportunity to showcase Peri's intuitiveness and intelligence as Peri struggles to stay alive.
'Of Chaos Time The,' as the title suggests, deals with chronologically disordered events as the Doctor jumps within his own timeline between his efforts to avert an explosion and his investigation into a strange alien hospital. While this concept is certainly not new to Doctor Who or even the audio medium, it certainly gives Colin Baker ample opportunity to shine, particularly highlighting how much his incarnation's gruff exterior has softened under Big Finish's tutelage while also ensuring that the events portrayed always make logical sense. The one-part format doesn't allow for too much innovation within the time loop confines, but this story absolutely meets the requirements of dealing with perception while providing a very enjoyable tale nonetheless.
'An Eye for Murder' sees Nicola Bryant's character mistaken for a famous novelist at a World War II women's college. With a plot full of intrigue and tension as poisonous pen letters that could have disastrous effects on the war are called into question, 'An Eye for Murder' wonderfully embraces its period nature and strong female ubiquity to create a very satisfying mystery with some very comedic moments as well. The second half does become much more brashly overt with its science fiction language, doing away with some of the great subtlety of the first half, but this is still another strong self-contained entry in this release.
'The Curious Incident of the Doctor in the Night-Time' is a wonderful conclusion to this anthology release, blending poignant tenderness with comedy perfectly as the story unfolds through the eyes of an autistic child. Michael as that youth becomes a very engaging presence with the script and Johnny Gibbon's performance never belittles his condition, and the parallels drawn between the youth and the Doctor are fantastic. It's rare that something completely novel is brought into Doctor Who, but experiencing events through a person who doesn't understand the underlying meaning to words being said but who can remember the minutest detail works exceptionally well, though it could have just as easily fallen flat with a different combination of writer and actor. It almost seems secondary, but the story behind the extra garden gnome and the J'noi's killer tendencies is also immensely innovative and successfully incorporated as well.
'Breaking Bubbles and Other Stories' is unquestionably the strongest anthology release so far, each story extremely engaging and able to successfully and satisfyingly stand on its own merit. Colin Baker and Nicola Bryant have a fantastic chemistry that is on display throughout, setting the bar high for their trilogy later in the year while making these four individual tales a joy.