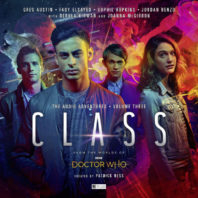 Released April 2020
SOME SPOILERS FOLLOW
Big Finish has certainly become no stranger to having to recast certain key roles in its long-standing franchises that have been given renewed life in the audio medium, and the creative forces and chosen actors have brilliantly managed to remain faithful to those who have come before them while boldly blazing new ground. Although Class is a still a fledgling franchise compared to its parent and its other spin-offs, circumstances have deemed it necessary that Big Finish attempt the impossible once again to keep Class viable and true to its roots with 'Catfish' by Kate Thorman bravely thrusting into the spotlight Joanna McGibbon who has taken over the role of Tanya Adeola from Vivan Oparah.
Tanya as a character is immensely sympathetic and an inherently difficult one to play realistically as the emotions and strains of being a prodigy several years above her age group at Coal Hill Academy always swirl in a maelstrom that could break loose at any moment. Given that age spread, Tanya has always found it difficult to make friends with her new peers, finding little solace in the school's outcast offering her hand in friendship and often finding her interactions based more on her knowledge and ability to help with classwork than on common interests. However, a new student who quickly becomes her first boyfriend with a checklist of perfect attributes unknowingly forces her to confront her own insecurities as he seems to become the more popular figure with her friends. McGibbon vividly brings to life the turmoil of a young girl who so desperately wants to be part of a group but who is not allowed to be due to an overbearing mother, and Tanya trying to live vicariously through Paul while likewise harbouring a burgeoning resentment about all that she is missing and just where she stands with her friends is a feeling that most can empathize with to a certain extent. With happiness, anger, sorrow, and remorse all effectively shown, McGibbon exudes confidence and easily slides into the core cast of characters with a charismatic and engrossing performance.
Of course, just as integral to highlighting Tanya's turmoil is an equally engaging performance from Jacob Daniels as Paul. The script does bounce about quite a bit as Paul becomes ever more accepted into Tanya's group of friends with and without her through a prolonged series of vignettes, but Daniels portrays an easy charm and confidence that makes his apparent likability perfectly believable while also maintaining just enough mystery to tease that all is not right despite saying all the right things to everyone, Tanya most importantly. Yet while the eventual revelation about Paul's relationship with Tanya does offer a clever twist on typical tropes, mirroring his desire to be part of a group with Tanya's doesn't manage to resonate quite as powerfully as the intense focus on Tanya that features so prominently throughout this tale. It does offer a suitable look at the similarities among all people no matter their outward appearances and likewise allows Tanya to remember that everyone has anxieties, desires, and turmoil to face, but Paul strangely ends up being a far more effective device through which to explore Tanya than himself. Still, despite the human element being far more effective than the alien as Tanya's friendships are only strenghtened, 'Catfish' is a tremendously personal and confident tale that highlights the unequivocal strengths that the audio medium allows in terms of characterization, proving how much life Class still has as it continues to be reinvented and expanded upon at Big Finish.