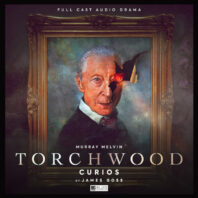 Released September 2021
SOME SPOILERS FOLLOW
The enigmatic Bilis Manger instantly became a standout character during Torchwood's run on television, and it's no wonder that this mysterious figure who so often leaves a trail of bodies in his wake continues to find further life in the monthly audio adventures. In James Goss's 'Curios,' Bilis Manger's saga continues among a trove of art treasures in a Welsh coal mine during World War II, hunted by something in the dark and soon joined by the disgraced Jill Anderson who has been sent to catalogue the collection.
With no core members of Torchwood in its many iterations present, 'Curios' as it unfolds through the eyes of Jill in many ways serves as an introduction to the tangents of what the overall Torchwood experience is like. Aided by Bilis, she begins to understand what the institute is for as she sorts through artefacts that are strangely out of place when viewed alongside known art and historical treasures. Yet as she continues through the daily routine of descending into and ascending from the mine with the help of two cantankerous guards and finds her concept of the world and its limits continually expanding, she much more slowly begins to realize the man before her seems to be an unknown entity who never- willingly or not- seems to leave this underground realm. With an ominous figure lurking in the shadows and Bilis toying with Jill along the way while providing just enough information and even apparent empathy to remain just on the fringe of her curiosity, the overall uneasy atmosphere is enhanced all the more by the claustrophobic confines that hint at a sense of entrapment and ever-impending danger.
It should comes as no surprise that Murray Melvin is absolutely spectacular in his return to the role of Bilis, oftentimes taking on a more congenial tone that showcases a new side of his character while Bilis attempts to regain his freedom, and the further information offered about this enigmatic figure and his continued cat-and-mouse association with Torchwood perfectly integrates with Jill's intended mission and the fates of those who have undertaken this mission before her. Rosie Baker proves to be a wonderful foil for Melvin, and the introspection, reflection, and even frustrations of each as deeper layers become uncovered lend an added depth that becomes all the more poignant in the final moments when the goodness present in even the vilest of people and the darkness present in even the best of people comes to light.
Whether or not Bilis and Rosie ever cross paths again or continue to associate with one another, 'Curios' is another strong entry in the Torchwood mythos that continues to develop one of the more fascinating side characters while providing a masterclass on atmosphere and tension. This may not advance the overall story of Torchwood or the Archive in any meaningful fashion, but the many continuity nods and the unnerving but guiding presence of Bilis who continues to follow his own agenda nonetheless allow for another corner of this universe at a relatively unexplored time to brilliantly come to life.