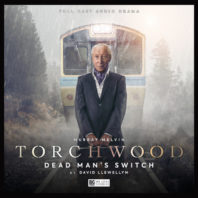 Released November 2019
SOME SPOILERS FOLLOW
Returning to the fore for the first time since 2018's 'Deadbeat Escape,' the ever-dangerous and ever-enigmatic Bilas Manger now has a tale to tell three strangers who awake on a train going nowhere in David Llewellyn's "Dead Man's Switch." As an antiques dealer, a property developer, and a hairdresser attempt to remember their last waking actions, a much more sinister plan than ever imagined is revealed.
"Dead Man's Switch" is very much an homage to classic horror anthologies that pays due reverence to what has come before while still smartly including modern sentiments about character's decisions in those classic scenarios. Smartly, each of the three stories that unfolds is played completely seriously, and Murray Melvin perfectly pitches his performance as the seemingly gentle and unassuming Bilas who witnesses and subtly steers events in the past before revealing his victims' role in a grand scheme that he wisely and tantalizingly keeps close to the vest. Melvin made an instant impact as Bilas during the original run of Torchwood on television, and his mysterious nature and continued ties to the Committee ensure that there is no shortage of opportunities to continue developing this charismatic entity who can seamlessly carry a story whether on the fringes of this established universe or squarely in the middle of core proceedings.
Within the confines to this thrilling framing device in which everything is unknown comes forth three brilliant stories that exemplify just how pervasive yet understated Bilas can be. Maxine Evans wonderfully captures the spirit of a woman who has been on the losing end of antiques auctions to an elderly gentleman too many times before and who has taken action to ensure she wins an elegant mirror that quickly proves to be much more than she anticipated. Timothy Blore likewise believably portrays a property developer out solely for his own best interest who soon finds that he should have taken the advice of an aged shopkeeper he is soon to evict. Finally, Mali Ann Rhys emotionally brings forth the tale of a heartbroken hairdresser who chooses to disregard her mature neighbour's warning to ignore the strange noises coming from nearby in the building. An unsettling score and immense visuals underscore each of the three scenarios that highlights the inherent tension and unease, and the amount of work that goes into developing each of these three characters as they quickly head towards their inevitable shared fate is impressive and wholly effective.
Naturally, three such stories along with a framing device mean that each component of "Dead Man's Switch" develops economically with little excess. While this does serve to increase tension and the sense of inescapability as Bilas watches on, it also highlights just how much more each of these scenarios could have offered within a fuller context. Nonetheless, the fact that this release is so impactful and resonant given how much ground it has to cover in such a short span of time is a genuine testament to Llewellyn and everyone involved in this production. It's not the type of story that Torchwood could routinely look to produce, but Bilas is the perfect conduit through which a tale with such an expansive scope hiding in plain sight amidst the very personal nature of these vignettes can unfold.