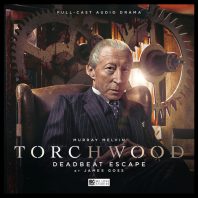 Released August 2018
SOME SPOILERS FOLLOW
The enigmatic Bilis Manger made an instant impact in the first televised series of Torchwood, his association with Abbadon and time traveling abilities creating a uniquely dangerous but personable threat that Murray Melvin brought to life wonderfully. Though 'End of Days' marked his final television appearance, the character has thrived in the comic, written, and audio mediums, and he once more returns to feature in the fourth audio series finale, 'Deadbeat Escape' by James Goss.
With the Traveler's Halt hotel setting that forms the claustrophobic confines of the tense mystery at hand, comparisons with Psycho are all but inevitable, and yet Bilis represents something wholly distinct from Norman Bates in this tale that makes the absolute most of his inherent mystery and ability to patiently play the long game. Indeed, Goss emphasises the friendlier face that Bilis can put on as he reads to and cares for the hotel's oldest occupant Grace and subtly supports the latest arrival, Hywel Roberts, which creates an altogether more unnerving atmosphere given the quiet and sinister menace that is known to be lurking just beneath the surface. Though he's all too eager to reinforce that he is not the manager of this hotel, the man presented here appears to be fully invested in the well-being of the business and its occupants, and this returning domestic take on the character creates a strong balance of familiar and unfamiliar as he subtly guides events and maintains a relative calm while encouraging curiosity.
However, preceisely because of the enigma that he presents, Bilis Manger works best as a character seen and experience through someone else's eyes, and though there is a small flashback to show how Bilis himself first entered this building, Gareth Pierce gives one of the strongest supporting performances in this audio range yet as Hywel seeks shelter for the night and slowly gives in to an increasing paranoia and psychological unraveling as he slowly learns of the unique and powerful danger into which he has willingly walked. Initially seeking out the source of a seeming leak as he settles in, Hywel forms an intriguing bond with Grace whose age and presence takes on a much more harrowing meaning as the truth behind the hotel, its previous guests, and its purpose for Bilis become known. With a familial plight driving Hywel interminably onward to find a safe path that others have for so long failed to uncover, the sheer range of emotion that Pierce imbues in his performance as Hywel overcomes assumptions and pieces together the many disparate fragments of clues before him is staggering and expressively and effortlessly drives the story forward.
In what essentially amounts to a two-hander with only fleeting appearances from Cara Chase's Grace, it's very much the atmosphere that forms the accompanying crucial presence within 'Deadbeat Escape,' and the subtle manoeuvering of background noises ensures that there is always a tense sense of foreboding surrounding the characters as time itself is called squarely into question. With no bombastic musical numbers, it's the basics and the veryday mundanities that come to the forefront so spectacularly, and the claustrophobic restraints of the building along with the barriers both known and unknown around it only further serve to heighten the ominous terror. A story featuring Bilis without the core Torchwood cast and culminating with his proclamations for intended revenge is not necessarily one that would be expected within the range despite its established willingness to experiment before, but this self-contained chamber piece fueled so expertly by the engrossing and evolving dynamic between Bilis and Hywel makes this a strong addition that further develops the overall mythology of Bilis and of the franchise even if its exact placement in time remains unknown.