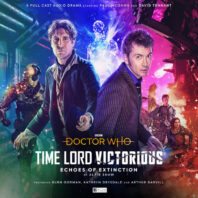 Released April 2021
SOME SPOILERS FOLLOW
And so, after a delay of several months due to the ongoing COVID-19 pandemic and the implausibility physically releasing a vinyl release to round out the bevy of media formats employed to tell its tale, Time Lord Victorious draws to a close with Alfie Shaw's 'Echoes of Extinction.' A trapped monster needs help, but it also needs to kill whomever it meets, and it will take all of two Doctors' ingenuity to escape.
This multimedia celebration has, of course, been designed so that most of the individual tales can be enjoyed in isolation without a tremendous knowledge of the surrounding events. The inclusion of both Paul McGann and David Tennant will assuredly draw in more casual fans than most other releases in this saga, and so it's understandable that this final instalment should continue the trend of being perfectly accessible in isolation with only passing comments about the extensive narrative that has already unfolded and developed. However, 'Echoes of Extinction' is also likely to disappoint some for those very same reasons since it neither delves into the depths of everything the Doctor has been through over the course of three lifetimes nor, in fact, features any sort of teamup between the Eighth and Tenth Doctors as could have reasonably been assumed from the official blurb and cover. Instead, Shaw takes a cue from Big Finish's own 'Flip-Flop' and pens two separate adventures that can be listened to in either order, casually interlinking the journeys of these two incarnations.
The first episode is certainly the more disjointed of the two as the Eighth Doctor arrives on a space station while searching for one of the wonders of the universe. He quickly stumbles upon a young woman who is desperate to escape her prison, and the script makes the most of its claustrophobic atmosphere and an obsession with the need to kill. This is a story that could and probably should have been extended out to a full hour in order to fully flesh out the intriguing dynamics and the underlying truths that each character holds, but Paul Clayton and Burn Gorman in particular give wonderful supporting performances to fully develop and explain the underlying motivations of the offbeat robotic Butler and the genuinely menacing Network, respectively. McGann showcases his Doctor's more earnest and softer sides in equal measure and imbues the overall affair with an understated energy, but the end result is something that still feels somewhat rushed and incomplete.
The Tenth Doctor, on the other hand, joins a crew of profiteering scavengers as he becomes entangled in events on the planet's surface below and quickly discovers the fallout of the Network's genocidal actions. It's here that connections to Time Lord Victorious as a whole become more explicit as the Kotturuh and the Doctor's own actions are mentioned, the coda in particular giving a good summation of where these two incarnations are relative to each other and the toll that the entire experience will come to have and already has had depending on perspectives. However, in isolation this is a far more complete tale than the preceding one, and the duplicity of the characters surrounding the Doctor gives an extra layering to the overall affair. Arthur Darvill, Mina Anwar, and Inès de Clercq give strong performances to complement David Tennant who brings his usual energy and gravitas as morality must be directly confronted, making Tennant's first and only live appearance in this saga a suitably engaging one.
In the end, 'Echoes of Extinction' doesn't quite capitalize on the added anticipation that the necessary delay in its release caused given the involvement of two Doctors, and it isn't necessarily a story that is integral to the Time Lord Victorious saga as a whole. Nonetheless, it's still an intriguing story told in two very distinct and linked halves, and another opportunity to hear Paul McGann and David Tennant- even if not together- is always a welcome one, especially as this mammoth multimedia collaboration comes to a close.