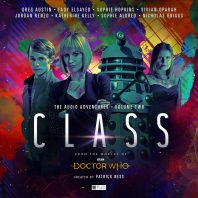 Released August 2018
SOME SPOILERS FOLLOW
Big Finish proved with its first volume that Class absolutely has the mythology and characters to carry further adventures set before the immense cliffhanger that ended the show's brief televised run. Beginning the second volume, Tim Foley's 'Everybody Loves Reagan' finds April strangely suspicious of new student Reagan Harper who is so instantly beloved by everyone else she meets.
The early stories of this Class audio adaptation have liberally borrowed ideas that have frequently pervaded the science fiction genre, and 'Everybody Loves Reagan' finds the titular character quickly becoming more and more interwoven into the lives and histories of the pupils at Coal Hill, to the point that Ram proclaims that he took her to Homecoming and Tanya insists that they have been great friends since primary school despite earlier saying that Reagan had just moved here from Manchester. Yet while this core concept isn't the most novel, the engaging dynamic that Reagan's escalating popularity creates with April's own sense of loneliness and being forgotten despite her own conviction that Reagan is somehow influencing the others around her is fantastic. These are feelings that all teenagers experience at some point, and Sophie Hopkins gives an immense performance that highlights her character's insecurities and strength of will to stand up to her friends even when they believe that she is simply jealous and spiteful of this new girl whom they have seemingly known for so long.
Likewise, Taj Atwal is extremely charismatic as Reagan Harper from the first moment that she arrives at April's failed attempt to create a social club at school and consoles her new friend. When confronting any stress or negative emotion from anyone at Coal Hill, Reagan is receptive to listen and always has just the right words and tones to offer a conciliatory presence that everyone appreciates. Everyone except April, that is, who instead finds herself fighting a burgeoning hatred for Reagan whenever she is in her presence that goes against everything she stands for as a person. The resulting impassioned arguments between friends surrounding Reagan's role in their lives are played magnificently by Hopkins, Fady Elsayed, and Vivian Oparah, and the gradual revelation that Reagan is sustaining herself by feeding off of the small fears of others is a nice twist that actually serves to further create an empathetic figure despite the vast swathes of changes she has made with even Tanya failing an exam after the fear of failure is taken away from her. While it's again no surprise that Reagan is an alien- though one who gives being from Manchester a new name- or that an influx of true emotional pain proves to be too much for her to handle, the journey to the resolution is packed with nuance and further proves just how much these characters have come to mean to each other over such a short period of time.
At least so far, April has been a far more intriguing and well-rounded character in the audio medium without the direct threat of the Shadow Kin dictating events, and Foley does well to capture the strengths and weaknesses of April and those around her. With an engaging villain with unknown motivations for the vast majority of the tale and excellent pacing to complement the strong performances, 'Everybody Loves Reagan' is able to overcome its simple and trusted premise to offer a thoroughly enjoyable character-driven piece that further develops the emotional world of Class in grand fashion.