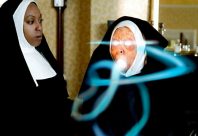 Aired 01 – 08 October 2007
SOME SPOILERS FOLLOW
With its core cast now firmly established, The Sarah Jane Adventures touches on Greek mythology to present yet another alien menace to Bannerman Road's finest investigators while Maria must also directly confront the reality of a split family in Phil Ford's 'Eye of the Gorgon.'
Sarah Jane and her companions investigate sightings of a ghostly nun at the local nursing home, Lavender Lawns, and Luke quickly finds himself in possession of a mysterious talisman that is the key to the local nuns' plans to allow an ancient creature and its cohorts to take control of the Earth. This is an entity that has been protected for millennia, and although the three Gorgon sisters as a whole are only lightly touched upon in ancient tales, the many stories of Medusa more than capably portend the very serious and immediate threat this being presents to anyone who meets its gaze. With Beth Goddard giving a suitably serious and stern performance as Sister Helena, the story quite wisely keeps its otherworldly threat shrouded for the majority of its running time which makes its few appearances all the more effective, especially when Maria's father falls victim and triggers an emotional race against time to find the solution.
Undoubtedly, 'Eye of the Gorgon' will be something of a divisive episode depending on the filter through which the viewer watches events unfold. The plot is extremely formulaic and straightforward, and it relies on an incredible amount of plot conveniences to move forward and reach its end. Luke even points out that he could effectively warn Sarah Jane by phone rather than walking to the nursing home in person, something that would have rendered the nuns' scheme fruitless, and his discovery of a secret passage that was apparently unknown to everyone else is nearly unbelievable. Likewise, although the setting of a nursing home and its residents by definition means that the action is somewhat limited in terms of its range which then means that the scope of the planned invasion is never fully realized, the rather poignant and integral plot anchor of an elderly woman with Alzheimer's which notably cannot be cured by any form of alien technology is a surprisingly strong and very mature subject for this show that is aimed more at a younger audience.
The incredibly quick resolution that consists of Maria holding a mirror up to the Gorgon almost undermines the entire journey that led up to it, but fortunately there is ample emotional material to make that journey continue to stand out for very positive reasons. Notably, although Maria's mother never does anything to make her likable in any sense, her return to Maria's life brings out a bevy of emotional turmoil for Maria who suddenly finds herself willing to lash out at everyone within reach as she tries to cope with and understand everything she is feeling. There is little nuance which is perfectly fitting for the tone of this series and Maria's age, and although her conflict with Sarah Jane being remedied so quickly one scene after does take away from some of its intended punch, Yasmin Paige capably steps up to the task in a script that asks quite a lot of her. Similarly, as Luke continues his path towards becoming a real boy, the scenes with Tommy Knight and Daniel Anthony showcase the burgeoning friendship and respect that Luke and Clyde are developing while Sarah Jane also more comfortably fits into the role of parental figure for all three children that can provide an understanding voice of reason and authority, something that plays to Elisabeth Sladen's strengths perfectly.
'Eye of the Gorgon' is equal parts fascinating and frustrating with a bevy of continuity errors glaringly indicating the need for more editing, but it is also filled with very mature and emotional material that is handled quite deftly and satisfyingly, hinting at the potential that this series can reach as it continues to find its footing.