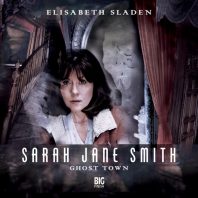 Released October 2002
It's unreasonable to expect a series tied together by an overreaching arc to exclusively deal with the components of the arc without exploring more standalone tales to highlight different aspects of the characters amidst distinct circumstances and situations. For an investigative journalist, these stories will undoubtedly entail a mystery of some sort, and 'Ghost Town' by Rupert Laight takes Sarah Jane and Josh to a remote Romanian village hidden deep within the Carpathian Mountains for a well-deserved break with Sarah's retired journalist friend and expat, Yolande Benstead, just as the village is set to host a top secret international peace conference.
In a confined story that leaves Natalie at home and out of the immediate picture as she recovers from her recent harrowing ordeals, 'Ghost Town' allows the immense chemistry of Elisabeth Sladen and Jeremy James to take centre stage, and the two differing viewpoints they bring to the mysterious goings-on around the house and village allow for some levity while also hinting at greater characterisation and understanding for each. Sarah Jane, of course, has no qualms about staying in her friend's eerie abode even as suggestions of hauntings begin to percolate, but it's intriguing to note how quickly her steadfast disbelief in ghosts is challenged as she can think of no other immediate explanation upon seeing a strange manifestation late at night.
Though Josh is seemingly more open to the supernatural explanations, he almost obsessively compares events to those in a Scooby-Doo adventure, a suggestion that would be forgivable but for the fact that that is perhaps the most apt description of how this story unfolds. In the short running time, there are only so many characters who can be introduced in any amount of detail, and so the list of culprits for these hauntings that literally scare people to death is a short one. With Yolande essentially ruled out as Sarah's friend and hero who inspired her to take up her profession, the list is shrunken even further to Yolande's mysteriously amnesia-ridden manservant or to the charismatic expat Abbotly. This in itself isn't a flaw of the story per se, but even before the man revealed to be Dr Bobarova dies, the script and Brian Miller really make it no secret that Abbotly is the man at fault and that Sarah's date with Abbotly will be the scene of the big reveal. There is a little bit of backstory afforded Bobarova's discovery of a scientific reason for supernatural phenomenon and Abbotly's offer to allow the means of crafting this discovery into a weapon, but it's the suggestion that he is but a pawn in a much larger organisation that is aware of Sarah Jane and her investigations that is the more interesting aspect of this debonaire character and that lends credence to the intensifying sense of paranoia Sarah has been carrying throughout the series. Nonetheless, real-life spouses Elisabeth Sladen and Brian Miller sparkle against each other even as events turn much more dangerous and provide an undoubted highlight of this tale.
Fortunately, 'Ghost Town' features some incredible sound design to evoke a sinister and creepy sense of the unknown danger around everyone, creating an immense atmosphere for a story that features an otherwise thin plot. There's nothing implicitly wrong with any single part of the story, but it remains all too content to stay on the trusted path rather than to experiment and do anything unexpected or revolutionary, resulting in a harmless and predictable standalone story that uses its great performances and sounds to maintain interest before culminating in a defining moment for Josh that becomes all too real.