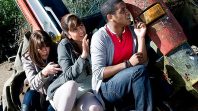 Aired 15 – 16 November 2010
SOME SPOILERS FOLLOW
Concluding a fourth series that has increasingly dealt with the very adult themes of accepting loss and change following the departures of Luke and K9 as well as confronting the possibility of the Doctor himself being dead, 'Goodbye, Sarah Jane Smith' by Gareth Roberts and Clayton Hickman bravely shows Sarah confronting mental deterioration and the very real possibility that her days helping others may be over.
In many ways, the absence of Luke and the maternal instincts and conflicting emotions he brought forth has allowed Sarah Jane to act much more like the Doctor during her recent adventures, but the script both subtly and overtly hints at Sarah's deteriorating mental status in events surrounding an investigation into a meteor crash. She will be the first to admit that she is not perfect, but admitting true failings in one's capabilities is an altogether different challenge that she bravely confronts head on with the help of Mr Smith. Losing herself in a thought and leaving the handbrake on are deft reminders that even the most innocuous of actions can potentially be worrisome, but Sarah Jane taking far too much glee in handing out weaponry and miscalculating so badly that she dooms herself and her two companions to assured death indicate just how badly affected Sarah Jane is. Most heartbreaking, of course, is her forgetting the Doctor, unquestionably the most important figure she has ever met, proof positive that Sarah's status is not simply down to uneven writing or a fleeting mischaracterization through which to advance the plot. Confronting her own poor judgment and diminishing capabilities allows Elisabeth Sladen to given one of her strongest ever performances as Sarah Jane whose resolve has never been so intimately tested, and her decision to step aside from her Bannerman Road operations so as not to cause any more trouble for anyone is assuredly one of the most resonant this series has offered and every bit as impactful as it needs to be.
Naturally, Sarah's decision to depart is made easier by the emergence of Ruby White who quickly proves herself to be every bit as capable as Sarah Jane, saving the trio from death while lambasting amateurs and the inclusion of the young Rani and Clyde. Confident, proficient, and armed with a portable computer similar to Mr Smith, Julie Graham makes an immediate impact as a woman who in any other circumstances would be a valuable ally for Sarah and her friends. Fortunately or not for Sarah, however, Ruby's shrewd intuition and obvious capabilities make her an obvious choice to take over for her here, and it's not long before she hands over control of Mr Smith and her headquarters to Ruby so that the important investigations within the so-called Ealing Triangle can continue unabated. Sarah wistfully watching on as Ruby develops fast friendships with Ruby and Clyde is superbly realized and provides a certain sense of finality as Sarah looks to depart.
While it's ultimately no surprise that Ruby is responsible for Sarah's cognitive decline, 'Goodbye, Sarah Jane Smith' expertly takes its time to reveal her Qetesh nature and instead gives ample opportunity for Ruby to showcase her abilities and to earn the confidence of each of the three leads. And while an exposed external stomach does tread the precarious boundary of being somewhat tacky and unnecessary given the already immense motivation of Ruby to drain the excitement and ultimately life from those around her, Ruby's villainous turn is spectacular and proves her to be a sterling antithesis to everything Sarah Jane stands for, forcing Sarah to watch as she breaks the hearts of Rani and Clyde and reveling in the angst she causes with absolutely no remorse of sense of compunction. Graham is perfect alongside Anjli Mohindra and Daniel Anthony while playing on the young duo's emotions, and Clyde's reactions to another parental figure suddenly leaving his life and his need to confront and express his feelings when all hope seems lost add an immense layering to this beloved character who has already had to confront so much in his young life. Mohindra likewise gives an incredible performance as expected, and her scene with Mina Anwar as Rani's mother after Sarah leaves is yet another powerfully profound moment in an episode and series filled with them.
Given the incredible villainous turn and the deeply emotional journeys of the three leads, 'Goodbye, Sarah Jane Smith' impressively manages to balance all of its content with meaningful exploration of each facet while deftly bringing Luke and K9 back for meaningful roles that again exemplify the incredible skills and sense of connectedness Sarah's expanded family hold. This is a story that is confidently written, acted, and directed, ending an incredible fourth series with an absolute highlight that is all the more profound in retrospect given the brutal irony that this would be the last story to air before Sladen sadly lost her own battle against cancer.