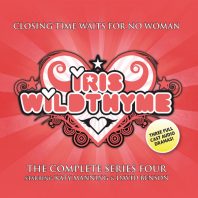 Released August 2013
The third series of Iris Wildthyme began to experiment more with placing the bombastically eccentric presence of the eponymous transtemporal adventuress and her firm companion Panda into more traditional storylines, making well-worn tropes all the more powerful by accentuating the duo's particular means of experiencing and resolving problems both big and small. Intriguingly ending with a version of Iris from the future in hot pursuit of the pair, the scene was instantly set for what promises to be yet another riveting sequence of three adventures in series four.
In 'Whatever Happened to Iris Wildthyme?' by Cavan Scott and Mark Wright, Iris is living the life she has always dreamed of alongside her companion Alex, the life of every party in all of history as she zips between orgies in ancient Rome, royal weddings, the grandest balls, and even Freddie Mercury's fortieth birthday blast. Strange figures in the mist and partygoers fading out of existence suggest that life is not just about fun, however, and Iris slowly comes to look beneath the superficiality and joyful pleasure of her surroundings. At the same time, Panda is living his own good life, sipping on daiquiris and regaling his ghostwriter Amanda with his memoirs. A famed actor, writer, and art critic, he must reminded that he is also a stellar athlete, but he begins to suspect that something is wrong when he sees glimpses of an older woman he does not know appearing before him. Suddenly appearing at a speaking engagement with Amanda as his agent, Panda has solved world hunger and poverty, but that same figure begins to appear as everyone in the audience, warning him that time shades are all around him. Running from a gaggle of Irises, a sudden marriage with triplets on the way provides Panda the extra impetus needed to discover if this mysterious woman is telling the truth.
The story has an immense amount of fun delving into the inner psyches of its two leads within these heightened circumstances where dreams seem to come true, and both Katy Manning and David Benson seem to revel in the opportunity to completely let loose and explore the more self-indulgent sides of their characters before the truth becomes known. Thankfully, that truth does further intensify the mystery behind the future Iris when revealing that she has locked her earlier self and companion in a pleasure prison designed to keep them blissfully unaware of their imprisonment by catering to their every whim. While not explaining just why she has done this, it suggests that there is a monumental event looming, and the heroic duo's ability to realise the truth and break free thanks to Iris's Clockworks nature and their deep need to be with each other that forms a much stronger emotion than simple desire typifies and develops this central relationship perfectly.
In 'Iris at the Oche' by Mark Wright, Iris and Panda arrive at the annual Pondside World Darts Championship. When Ted Taylor steps up to the oche, however, Iris quickly realises that the fate of the entire universe may hinge upon this one game. With an immense amount of complex calculations streaming through Ted's mind, this Kent Country Club finds itself the focus of the brawny Hankians as an ancient stampeding force looks to regain precedence by defeating their vanquisher who as of yet has no idea what is going on around him. Iris Wildthyme, perhaps even more than Doctor Who itself, has reveled in juxtaposing the mundane with the spectacular, and the extreme normality of a darts competition certainly provides an intriguing backdrop for an alien incursion featuring a temporal rift and a predestination paradox. With nothing to go on but a sensitivity to quantum discharge as amassing forces look on and monitor from afar, this seemingly innocuous location quickly becomes the site of one of the most challenging situations Iris has yet encountered.
Strangely, it's Iris's own proficiency with darts that allows her to connect with and guide Ted to his ordained fate. There is a bit of a recursive logic to the script, and it's interesting to note that the temporal events as portrayed are written in stone with no real discussion about how Ted feels or of saving him and keeping him as is in his current form. All of the main players realise who Ted once was or will be given relative perspectives, and so it must be. That transformative process is certainly intriguing and well-written, and Bernard Holley does well as a man who suddenly finds himself so out of his depth, but it does seem like an opportunity for greater emotion was bypassed to advance the plot. Still, with Ted coming to terms with his newfound power and just how far he should go in his pursuit of good, Iris and he do share a wonderful scene where she tries to instill a true sense of morality and balance to this figure she helped create. 'Iris at the Oche' doesn't necessarily push boundaries like others stories in the range and the villains never really manage to vividly come to life, but it certainly has its own clever moments and remains perfectly enjoyable throughout.
David Bryher closes out this fourth series with 'A Lift in Time' as Iris's future finally catches up with her. Traveling to the corporate headquarters of the group behind an earworm jingle that they cannot forget no matter how hard they try, Iris and Panda soon find that the jingle is only the beginning of a plan that puts the entire universe at stake. With the vice president of the department charged with making tweens into stars quite literally the only person available to answer questions, it's clear that something has gone horribly wrong, and Panda suspects an artificial intelligence at play as the zombie-like forms of other workers dedicated to the music make themselves known. The story never tries to hide the fact- even disclosing it in the title- that a particular lift is the main culprit, and the idea is so preposterously absurd that it could only really work within the confines of Iris Wildthyme. To that effect, Simon Fisher-Becker does an immense job in developing what could so easily be a character that falls flat, and the glee that his Lift seems to take as he goads Iris into uncovering his past and the reasons for his current plans is an intriguing dynamic that hints at the madness that has resulted from a programming error and the unique intermingling of music files played over and over again with further corruption.
Truly, 'A Lift in Time' features one of the most complex villainous plots that the series has yet offered, tying in the accidental origin story of this unique sentience, near deification of a most unexpected figure, corporate subterfuge with profits and fame attributed to those who do not deserve it, and brutal revenge that may or may not have been the result of a malfunction. Yet while the notion of broadcasting this specific music across the cosmos to overwrite others' minds is dangerous enough, the Lift's ability to recognise and incorporate the potential power of Iris's bus to incorporate all of time proves just how capable and menacing this being truly is. Likewise, while it's no surprise that the one person who has not been affected comes to play a vital role in the resolution, it's quite surprising that Iris's plans do not work out as intended even though this has been heavily foreshadowed in previous tales. Manning and Benson are superb throughout the story as always, but the tremendously dark turn the story briefly takes with everything destroyed and Iris riddled with self-loathing allows some of the most meaningful and profound moments of the series yet and creates a tremendously ominous conclusion and counterpoint to the wonderfully outrageous notions of the franchise as a whole as Iris promises to travel back and stop themselves for good.