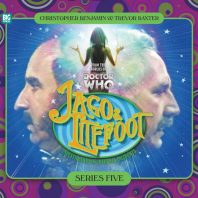 Released March 2013
After four series that firmly established the supernatural Victorian stylings of Jago and Litefoot and its two gentlemanly investigators who- wittingly or not- confronted and defeated evils lurking in the foggy shadows of London and beyond, 'Voyage to Venus' and 'Voyage to the New World' saw the duo join forces with the Sixth Doctor to adventure farther afield than ever before, setting the scene for their return to Earth in the 1960s, some seventy years after their departure. With a new generation and a new culture that have progressed so much from the foundations that their Victorian society instilled, Jago and Litefoot must now confront the prospect of finding a life in this era while danger continues to lurk around each corner.
Ingeniously, Jonathan Morris's opener 'The Age of Revolution' picks up on the previously-introduced thread of Ellie having been transformed into a vampire, Litefoot's previous attempt to cure her apparently having failed and thus allowing an anchoring simulacrum of familiarity for the two temporally-displaced explorers. Following a groovy reimagining of the theme song, the story also takes a bit of time to flesh out this new setting before recapping the end of 'The Voyage to the New World' to explain just how Jago and Litefoot came to be in the 1960s, allowing Lisa Bowerman ample time to shine as she explains her business success and the difficulty of having to watch everyone she has known and love age before her and die. And while Ellie remains the most direct link between the two eras, Morris is quite effortlessly able to point how just how similar and how very distinct the two times are, with Jago and Litefoot yearning to return home but all too aware and accepting of the progress for the better that has been made in the interim. This creates a unique dynamic for both heroes when a society focused on returning the world to Victorian values is unsurprisingly revealed to be a front for a much more ominously persuasive force, allowing the two a direct point of entry but forcing them to confront the reality of their situation while making good incidental use of a token from their trip to Venus.
Television unquestionably has its roots in the theatre, and so it make perfect sense that Ellie would help Jago find work as a television presenter who can tap into the fondness for days past on a variety show. Although 'The Age of Revolution' only discusses the very beginnings of Jago's time leading up to his premiere episode, it seems clear that this will be a successful venture given his natural verbosity and charisma. Litefoot, on the other hand, finds his fortunes heading in the opposite direction of his friend's and has found a tougher go of things while attempting to run an antiquarian bookshop, feeling antediluvian while trying to keep abreast of recent medical and scientific advances. A feeling of being passed by and inadequate is a common theme that many dramas have explored, but Morris's words and Baxter's performance lend an incredible amount of weight to Litefoot as a man in his prime who has suddenly become a remnant of the past and is struggling to avoid looking up his ultimate fate which Ellie has assured him lays nearer his proper time. The element of Litefoot having made Ellie promise not to tell him anything in this present is a fascinating thread that hints at adventures to come, and the narration that eases the audience into this new setting through the eyes of a relative of Sacker from earlier series makes for a seamless introduction to this newest set for listeners old and new alike.
Having previously delved as deeply into the mythology of Doctor Who as anyone, writer Marc Platt is always assured of delivering a rich script full of intriguing ideas, and 'The Case of the Gluttonous Guru' is certainly no exception, although the more comedic tone will undoubtedly agree with some listeners more than others. Mercifully, alongside the tale of patrons- including Jago himself- falling ill at a new restaurant that is all the rage, Platt takes the time to recognise the horrors of the Blitz and two world wars that Ellie has lived through by taking the slow path to the 1960s and her envy that Jago and Litefoot have been able to arrive here without a care except for that to return home. Yet as Ellie takes Litefoot to investigate her newest competition, the comic tone keeps the rather gruesome nature of eaten food then eating its host from the inside out from becoming too visually sordid. With the new mother gestating in Jago's stomach to replace the old mother to continue its inherent cycle of rebirth, the swami Sanjaya Starr, his Temple of Transcendental Revelation, and the willingness to exploit the imaginations and hopes of naïve individuals taps into the darker connotations of the sort of new age philosophies that were becoming so popular at the time to good effect.
Comedy and levity is subjective, however, and the over-the-top performances and visual threat of psychedelic toads along with the notion of Jago becoming so stubborn that he gives up on all of his passions to pursue the parasite's desires are difficult to accept here because they go so very much against the series's and the character's norms that they do somewhat detract from the spectacular tone this series normally carries. Still, Christopher Benjamin commits to this change of character and his increasing appetite with gusto, and Litefoot's reaction to Jago's apparent giving up of libations is certainly memorable. The change that continues to work in this series, however, is Jago's continuing social rise as his television show takes off while Litefoot continues to struggle at his bookshop, partaking in fish fingers and canned beans for meals by himself. Trevor Baxter plays this downtrodden character with the needed glimmer of optimism, but it's poignant and fitting that he wants to return home and thus looks up the date of his own death to ensure that he does, indeed, make it home. Despite its undoubted mixed reception, however, 'The Case of the Gluttonous Guru' absolutely features the usual strong performances and production values, and Jago being presented with his old Palace Theatre at the conclusion is a touching development that will surely feature heavily as this series goes into its latter half.
As Litefoot unpacks a series of recent acquisitions for cataloguing at his bookshop, 'The Bloodchild Codex' by Colin Brake soon finds Jago, Litefoot, and Ellie facing an ancient book that threatens to bring an evil power back into this world. As attention is called by two visitors to the possibility of The Bloodchild Codex being in the unpacked collection, Bloodchild is revealed to have been an illusionist who performed in the streets and in the homes of the wealthy aristocracy who also investigated manners of a paranormal nature. With Bloodchild having apparently found the secret to cheat death, the book is a coveted possession, and the ramifications of its claims bring with it the appropriate discussion stemming from Ellie's own immortality that such a seeming gift is, in actuality, a curse. This story naturally unfolds as the most nuanced and powerful of this set yet, and Bloodchild escaping from the book in the form of smoke is played incredibly dramatically and paints an incredibly evocative image as others' more nefarious intentions must directly confront the book and its contents.
There isn't necessarily a reason that this story needs to be set in the 1960s, but the inclusion of Raquel Cassidy as the mysterious Guinevere Godiva continues to set up a more subtle villainous presence than has been present in earlier sets. Her slip of the tongue hinting that she may know more about the nefarious Brain Drain Killer than the public should allows Jago a nice bit of deduction, but her more direct connection to Jago and Litefoot stemming from her collection of items used by the Celestial Chang from 'The Talons of Weng-Chiang'- including the murderous homunculus Mr Sin- is a thrilling revelation that has the potential to tie these two distinct eras bridged by its unlikely heroes together with a suitably dramatic finale. 'The Bloodchild Codex' may not have the same overall impact as the penultimate tale in some earlier sets, but it is extremely confident with the story it tells to progress the overall arc and makes the most of an intriguing threat, a rising tension and danger, and nuanced characterization to create a thoroughly enjoyable experience that perfectly brings sensibilities and assumptions from the past directly into question alongside the base nature of humanity and the optimism for its improvement.
Justin Richards's 'The Final Act' brings this fifth series to a close on the night of Jago's biggest live show as the enigmatic Guinevere Godiva brings her magic act to stage and her nefarious desires to the forefront. After a very efficient means of catching Sergeant Sacker up with the events that played out in 'The Talons of Weng-Chiang' and their possible recurrence here, Sacker is quickly thrust into the middle of the investigation despite his loudest proclamations. Duncan Wibsey has been a fairly understated presence in this set, but his character truly shines here, and the plot thread unification of Jago's television show broadcasting from the Palace Theatre allows for some fairly direct homages to the television serial that launched Jago and Litefoot into the lasting public consciousness. At the same time, because these two have lived through this sequence before, albeit with Li'Sen Chang in the place of Godiva, they know of shortcuts and escape routes to be taken, including the fact that they would be better off using the dumbwaiter to get into the hidden dragon chamber one at a time. The crystal of Magnus Greel's time key that Godiva's grandfather pieced back together holds his distorted mind that has been controlling her actions, allowing for another seamless inclusion of Jago's Venusian crystal and its properties as a counterpoint, and Ellie jumping into the time cabinet is a very emotional climactic sequence played immensely well that also allows for a logical resolution to the temporal displacement of the heroes.
Richards wisely keeps the rather audio-devoid Mr Sin more to the background here, but his presence is certainly felt throughout thanks to a few short but well-placed scenes that add a tremendous amount to this era-combining threat. It's a bit unfortunate that Big Finish did not also include its 1960s Counter-Measures team to further expand upon the scope of its Doctor Who spin-offs, but the story as presented is a superbly dark and entertaining story that manages to pay respect to the Victorian era from which its plot stems while still showcasing its 1960s setting and further-developed characters to avoid the feeling of passing off an uncreative sequel that more or less copies its predecessor verbatim. Though Godiva does unfortunately take a turn towards campy territory as the story progresses, the threat she poses and introduces in engaging throughout, and the trio of Christopher Benjamin, Trevor Baxter, and Lisa Bowerman give perhaps their most momentous performances yet to match the very personal nature of this menace and the sacrifice its resolution entails. Changing the setting so radically for a series so intrinsically tied to its time period was a big risk for Big Finish, and, although this new setting isn't necessarily vital to this particular series, it does give a brief flash of something completely new before Jago and Litefoot return to more familiar locales going forward. With three solid stories and one humorous instalment that will appease some more than others, the capable hands at Big Finish have proven that these intrepid heroes can absolutely shine no matter their surroundings and have plenty of life in their in their ongoing adventures yet.