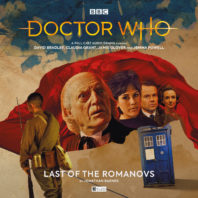 Released March 2020
SOME SPOILERS FOLLOW
Landing in Ekaterinburg in the early twentieth century instead of 1963 London as intended in Jonathan Barnes's 'Last of the Romanovs,' the Doctor and his companions once more find themselves in trouble when they step outside the TARDIS. Nicholas, the last Tsar of Russia, is imprisoned with his family, and one of the most infamous crimes in history is about to occur.
As with most of the true historical tales that Big Finish and The First Doctor Adventures have been so adept at producing, the drama of 'Last of the Romanovs' comes not from the unknown of how events will progress but rather from the vibrant realization of the setting and the very nuanced shades of the gradient of humanity on display. The Russia presented here is a harsh one with danger at every turn during this revolutionary time, and the sound design expertly realizes that starkness without ever making an enduring inkling of hope and optimism seem out of place. This is the very foundation of what Russia would become in the time of Ian and Barbara, and Barnes makes great use of these characters to piece together their knowledge of recent history of such a distinct and foreign land to lend a very personal element to this story that in its own way could seem so very alien otherwise.
As the Doctor proclaims, this is a fixed point in history, retroactively solidifying a burgeoning set of rules the Doctor abides by at a time in the show's history when anything and everything seemed in flux. Making the underlying hope that events still might change for the better all the more resonant and despairing as a result, this also serves to enhance events by creating a sense of inevitability that underscores the horror and emotional devastation of what must unfold. The many different ideas and personalities vying for supremacy as the future of Russia seems anything but certain to those living through it are presented concisely and logically, and Barnes uses the smaller details of history to allow each aspect of the tale to develop naturally with Nicholas, Anastasia, and Yakov Yuravsky in particular becoming well-rounded entities harbouring genuine thoughts and emotions. Perhaps unavoidably, or at the very least following the normal progression of many of these historicals, the narrative does favour one side over all others and bends listeners' sentiments in that one direction, but this never serves to detract from the engrossing drama and its sense of driven resolve which constantly shows that nothing should be assumed in this time even with its outcome known.
However, 'Last of the Romanovs' does falter a bit in regards to its accents, with some moments delivered with a bit too much enunciation that seem more like a slightly-off stage production than a series of natural conversations. Nonetheless, the leads are all on top form, and David Bradley in particular is able to imbue a sense of anguish to the Doctor's words that develops both the story and the burgeoning sense of emotions and responsibility this incarnation continues to show. Jemma Powell and Claudia Grant excel as the scope and course of history seem all but insurmountable, and Jamie Glover gives his all as Ian is separated and must traverse the perils of revolutionary life. These four again manage to stay true to their televised counterparts while creating something wholly their own, and it's those performances as well as the immense atmosphere that truly allow this dark period in history to come to life with such engaging dynamism, ending this fourth volume on a high and certainly keeping anticipation high for whatever may come next for this range.