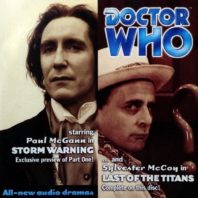 Released January 2001
Originally released in the 300th issue of Doctor Who Magazine when anticipation for Paul McGann's audio debut as the Eighth Doctor in 'Storm Warning' was at its highest and still available as a free download from Big Finish's website, Nicholas Briggs's 'Last of the Titans' finds the Seventh Doctor lost on a gigantic spaceship with a cosmic catastrophe unknowingly approaching.
With the Doctor traveling alone and quickly becoming separated from the TARDIS as his ship falls into a fiery furnace, this narration-driven sequence is an opportunity for Sylvester McCoy to shine that he takes full advantage of while he both slowly reveals the central mystery and creates an ominous atmosphere through perfect inflection and tone. Fortunately, and despite its brevity, 'Last of the Titans' as a whole manages to match its lead's charisma and power, and the wealth of creativity and clever ideas on display is quite impressive even if they understandably can't be explored as intimately as in a feature-length release. By necessity, this isn't the master manipulator version of the Seventh Doctor who can piece together the most abstract fragments of information to implicitly understand everything around him, but the gradual revelation that this gigantic ship belongs to a long-defunct line of crafts known as planet eaters that were originally designed to clear the space lanes of celestial bodies is paced perfectly, especially with the Doctor's intended and favoured holiday destination of Ormelia its next target.
Complementing McCoy is an eerily effective Nicholas Briggs as Vilgreth who captains this ship, a member of the evolutionary blind end Titanthrope race that was both bigger and more intelligent than the Neanderthals with whom they coexisted. Unfortunately for the professor who attempted to remove this being's violent tendencies, this act was perceived as an aggressive one and resulted in his death. Nonetheless, the understated power and force simmering beneath the gentle façade of offering tea and cake that happen to be from the last place he ravaged works marvellously and helps to create an incredibly memorable presence in a very short period of time, giving a surprising layer of nuance to this literal race against time.
'Last of the Titans' is an update of the Audio Visuals drama 'Vilgreth,' providing firm proof of the imagination and quality keeping Doctor Who alive in the audio medium even before Big Finish acquired the official license. Still, whether as a free release or not, this is a story that encapsulates everything a Doctor Who story should present in the classic sense with a credible planetary threat and an engaging and deep villainous presence that only the Doctor can solve. This is the perfect brief teaser for those unfamiliar with Big Finish's work and a substantial treat for those simply looking for something that does not receive the fanfare of a full release, and the wonderful performances and stellar score and sound effects serve as a reminder that even back in its earliest days Big Finish was a finely tuned operation excelling in every aspect of its craft.