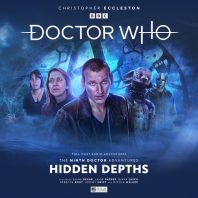 Released November 2022
SOME SPOILERS FOLLOW
In 1864 Germany, housekeeper to Alfred Nobel, Bertha Kinzky, is appalled to find patrons of the Bad Homburg Spa fighting rather than relaxing. With her mother insistent on finding her a royal match, Bertha soon finds herself in the middle of an audacious alien plot, turning to her mysterious opera teacher to lead the charge in Lisa McMullin's 'Lay Down Your Arms.'
'Lay Down Your Arms' is a gloriously exaggerated story that never takes itself too seriously, easily best exemplified by the Doctor teaching Bertha a Judoon opera for which even the Judoon arrest themselves due to crimes against music whenever they start to perform it, and the incredible visuals and menace helping to create an immense narrative that deftly incorporates the social norms and expectations at this time period for Bertha. Still, the incessant pressure from her mother to wed is a palpable source of frustration and consternation for her, especially since she would prefer to marry for love rather than for convenience and certainly does not want to marry a senior like her mother did that left her fatherless growing up after he passed from old age before she was born. This doesn't end up necessarily being a driving force for the plot despite its precedence at the story's beginning, but it affords great insight into this time period and into the mindset of the confident and independent Bertha whom Kate Sissons so vividly portrays while expertly explaining why she seeks out the company of the Doctor who has shown a shrewd intelligence and amiability with no romantic inclinations. Fittingly, it's through the Doctor that Bertha who wants to make a life for herself opens her eyes to possibilities beyond singing as he reminds her of the power of books no matter one's age and encouraging her time and time again to write her own, a sentiment that would push her to be the first female recipient of the Nobel Prize later in life for her provocative and powerful anti-war sentiments.
Fittingly, war is integral to this story, the burnt cabbage stench of the spa's new bath salts intimating from the start that something is not quite right there and a witnessed intra-family attempt at murder serving as a gateway to the deadly changes occurring within the population. The arrival of Tsar Alexander II represents yet another perfect opportunity for Sophie Kinzky to create a match for her daughter, but having this man instead be a copy housing alien snakes that reveal themselves like opening Russian dolls is a brilliant visual that is wholly matched by their audacious and excessive scheme to build a spa in order to use hallucinogenic bath salts to turn unsuspecting humans into warriors on predetermined teams within an established arena. As an effort to circumvent further sanctions from the Shadow Proclamation by not explicitly warring themselves, there is a certain genius underlying the pure malice and callousness of these beings, and their plan to expand this proof of concept to incorporate the entire planet is further heightened by the immense violence their actions have brought forth from even the most benign of people here. Chillingly, they know that they will not have to brainwash every person or even every country on this planet given humanity's predisposition to anger, a tragic but ultimately insightful study into their target race.
'Lay Down Your Arms' impressively balances an absurd plot with a relatively intimate character study of an influential historical figure about whom many know nothing. It's a story that relies on an impressive sound design to accentuate the dichotomy between the spa's gentile façade above and the deadly war below, and every line of the Doctor's is written perfectly for Christopher Eccleston who effortlessly flits between charmingly irreverent and solemnly determined with an easy energy. McMullin's bright imagination has crafted another fine addition to The Ninth Doctor Adventures range and highlights again the breadth of storytelling opportunities available with Eccleston at the helm.