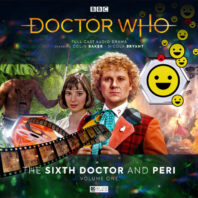 Released August 2020
SOME SPOILERS FOLLOW
When a plea for help sends the Doctor and Peri to the Earth colony Rusina, they soon find themselves entrenched in a society fixated on individual popularity in Jacqueline Rayner's 'Like.' While Peri discovers the genuine benefits of being liked, however, the Doctor quickly uncovers the far darker side of this society that its dislikes create.
'Like' is the latest in a long series of science fiction stories that have offered a biting take on modern society and what its next logical step may be, and to that effect it works quite well. Coming from a society obsessed with social media and garnering and sharing information and opinions, Rayner here presents a world on which its citizens are literally chipped to allow its people to always have access to the latest news stories and government mandates. However, everyone also has the ability to subscribe to anyone else, in the process opening up the ability to like or dislike anything that person shares. Of course, as the Doctor soon finds out, information and statements can easily be twisted and manipulated into something else entirely, and just as he discovers that an urge to become popular can in itself bring about a certain learned set of behaviours that others can exploit, the dangers of misinformation and the toxicity of social media take on an entirely new layer of import as the nature of these chips becomes known.
Unfortunately, while the social media aspect of the story works is effective, the plot itself is fairly standard and predictable. While it's inevitable that 'Like' will draw comparisons to the brilliantly biting 'Vengeance on Varos' that also featured this leading duo on television, its story doesn't quite manage to match the intrigue that its central components that are so relevant to today's society entail. Thus, the alien refugees looking to share this world after their own was destroyed simply become the focus of an impassioned but very heavy-handed and lengthy speech from Colin Baker. These are words that need to be said, absolutely, but doing so in this manner is jarring and serves to demean the entire society of Rusina which isn't quite fair when comparisons to the many individual beliefs in countries facing similar humanitarian pleas today are considered. Naturally, the chipping system becomes integral to invoking change, but Governor Crompton never quite manages to become the nuanced character intended when the prospect of effective change for the better through social media is forced upon her, thus lessening the impact of the resolution after a predictable plot that is also broken up by fictional advertisements of sorts that are likely intended to further entrench listeners in this world.
This is the type of story that Doctor Who should be able to pull off admirably, and while the individual elements are all truly worthy of exploration, 'Like' often feels patronizing as it imparts its sense of morality. Its heart is absolutely in the right place, and the performances are all strong as expected, but it doesn't truly showcase the strengths of the Doctor or Peri and doesn't ask Colin Baker or Nicola Bryant to do much outside of what they have done many times before in other adventures. 'Like' is ambitious with its intent but not with its plot, and the end result is a surprisingly average affair elevated by the sheer charisma of its leads and the chemistry of its entire cast.