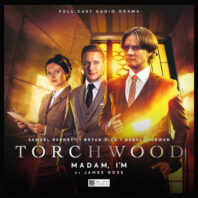 Released July 2021
SOME SPOILERS FOLLOW
With only two series of individual episodes preceding two series-long arcs, Torchwood managed to present plenty of big ideas but didn't necessarily have the time to set up many recurring threats. Still, one of the more fascinating concepts introduced was Adam in the appropriately-titled 'Adam,' an entity who would infiltrate and alter people's memories in order to sustain his life. Much earlier than his time in Torchwood Three, Adam permeates Torchwood Soho and Room 13 through Norton Folgate in James Goss's "Madam, I'm," setting the young organization still learning about the alien technology it has acquired on a course for interstellar war.
As Adam quickly ascends the ranks of Torchwood from mailman to leader through use of his insidious powers, it's intriguing to see how effectively the organization meant to protect can be turned into one poised to go on the attack even beyond the limits of Earth. While Adam is far more adept at realizing the full potential of the technology at his disposal than Rigsby whom he has furtively replaced, this naturally speaks to the inherent power that Torchwood always commands as well as the importance of leadership to sustain a sense of restraint and civility when external or internal pressures mount. And while there is never any doubt that Adam is building up to attack the oncoming Kernaz fleet for purely self-serving purposes, Bryan Dick in his return to the role after some thirteen years is every bit as impressively charismatic to lend his character's understated yet terrifying power an even more profound and deceptive quality.
Torchwood Soto was introduced outside of the monthly Torchwood audio range, but fortunately the writing as well as the superb chemistry between Samuel Barnett as Norton Folgate and Dervla Kirwan as Lizbeth Hayhoe instantly bring this organization to vivid life with no prior knowledge needed. For all of Norton's moral ambiguity and ethical shadiness that has defined his character throughout his tenure with Torchwood, these two are remarkably adept at piecing together the inconsistencies of the world around them to ensure that their investigations continue as their memories continue to be altered. Of course, the very fact that the leader of the organization to whom they feel obligated to make their reports is the cause of the alterations does mean that the story is purposefully disjointed with the same ground being covered multiple times, but even as the plot treads water in something of an imposed mental prison while time in the outside world unknowingly continues on and while progress on the interstellar weaponry continues, the brilliant energy that these two imbue into every scene ensures that nothing ever feels stale or unnecessary. And while it is convenient that Adam should not take precautions to eliminate references to Rigsby's recent leadership or to workers' conflicting sense of the true date as visualized by physical calendars, the scheme that Norton and Lizbeth employ to send messages o themselves is as ingenious as it is hilarious and utilizes the 1950s setting to perfection while ultimately revealing an apporpriate truth about Norton's involvement from the start.
Even with a plot that by itself is fairly light and straightforward, the unique presence of Adam and the amazing energy and power that all three actors bring to their roles- especially as Barnett and Kirwan get to explore facets of their characters that only certain perceived altered realities could bring out- create another satisfying entry into Torchwood canon. And while Adam could certainly return at any point to wreak continued havoc with any iteration of the organization, the Soho variation on display here is absolutely one brimming with potential for further stories to continue to realize.