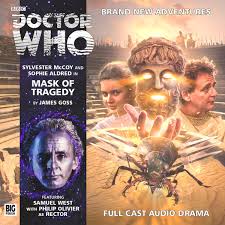 Released September 2014
The Hex-turned-Hector trilogy continues with 'Mask of Tragedy' as the Doctor decides to take Ace and Hector back to 421 BC to see the great Athenian civilization full of culture, philosophy, and theatre. Yet even with the comedian Aristophanes involved, they soon find that Athens is full of threats deserving of anything but laughter as they traverse a land of slavery, tyranny, and paranoia, one coping with the constant threat of a Spartan invasion and a plague that turns people into the walking dead.
Unfortunately, the promising premise of taking a risk with the stalwart Hex and completely changing him during 'Gods and Monsters' and 'Afterlife' is still failing to achieve anything meaningful. After the bizarre decision to have Hector influenced by the Nucleus of the Swarm in his first true story, 'Revenge of the Swarm,' the script here and Philip Olivier are still doing nothing to distinguish the two characters aside from having Hector proclaim that he hates being compared to Hex. His seeming inability to help people despite his overwhelming desire to do so is a well-trodden plot device for this character as well, and while Olivier does very well in the role as usual and brings the requisite emotion believably as he experiences the past and comes to hold the titular mask, it's a shame that Big Finish has not even tried to deliver on the total change the character has experienced.
The story itself is a rather mixed affair as well, full of ingenious concepts and imagery but unsteady in its tone and threat. The idea of alien cultures realizing the importance of the ancient Greek civilization and swarming the time period so brazenly that the Greeks themselves are aware of their visitors is incredibly audacious, and Cleon interrogating those visitors and exiling those with answers he doesn't like as Aristophanes brings them into his performances is even more so. Somehow those concepts come together quite well and form a good core for the story that otherwise bounces from genuinely funny comedy to serious drama somewhat haphazardly. This tonal shift is perhaps most egregious with Ace's storyline as she is exiled and faces certain doom as she confronts the Spartans, only to find that they are a group of women with whom she becomes quite chummy, leading to a brutal reversal as they take the fight to Athens but then also stop to enjoy some theatre.
It's quite possible that 'Mask of Tragedy' could have been much better if it didn't have to fit in the Hector arc even if it does lead to another emotional outburst that leaves this TARDIS team on unsteady ground going forward. With some fine dialogue, excellent pacing, and an exciting historical setting brought to life quite well, 'Mask of Tragedy' features all of the components for a good Doctor Who tale. However, this particular combination of leads has seemingly stalled, re-treading familiar ground over and over again no matter how the circumstances change, and hopefully the upcoming 'Signs and Wonders' can do something meaningful with Hector to keep him from following in the path of Klein, another immensely engaging Seventh Doctor companion who Big Finish revisited once too often after seemingly leaving her on a high note. While it would have been nice to experience some of the impact that science fiction has had on this historical setting and to explore the real-life parallels of a man named the Doctor supporting Aristophanes, the end result is a decently intriguing affair hampered by an unsteady tone and unwillingness to truly doing something new with its lead characters.