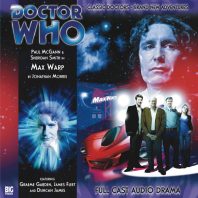 Released February 2008
The Doctor and Lucie arrive at the Sirius Inter-G Cruiser Show in a time of tenuous peace between the Kith Oligarchy and Varlon Empire. Yet when a test flight of a Kith Sunstorm ends in death, the Sirius Exhibition Station becomes a bed of conspiracy as it becomes clear that someone is trying to re-ignite the flames of war, and only the Doctor and Lucie stand a chance of keeping the peace.
Momentarily disregarding the conspiracy plot, 'Max Warp' is notable for its bold and hardly-subtle parody of BBC's own Top Gear, something that will understandably speak to some more than to others. While knowledge of that programme is certainly not a prerequisite for this story and many Doctor Who fans will have never seen it, writer Jonathan Morris deftly includes his own in-universe programme dedicated to spaceships and unabashedly targeted for men and men alone, simultaneously giving the Doctor a chance to once more give in to his love for spaceships and technology. The standout star here is unquestionably Graeme Garden as Geoffrey Vantage, an utterly sexist and avaricious character who demands the spotlight in every scene, and he forms the perfect foil for the more upstanding Doctor and Lucie as well as the political leaders of both groups who suddenly find themselves on the verge of war.
Introducing a world and its lengthy history and then setting up and resolving a murder mystery in under an hour is a tall task, and so it's understandable that portions of this plot are somewhat rushed and not necessarily the most challenging. Nonetheless, the pace of revelations as well as the intrigue resulting from those revelations remain strong throughout. The apparent sabotage of a Kith ship that is supposedly incapable of malfunction, the Kith's thousand-strong battle fleet compared to the defenseless Varlons, and the Varlon president's seeming inability to make a decision without the help of her Spindroid all provide an intriguing backdrop to events and keep the picture from becoming entirely clear before needed even if the intended sabotage of the Kith fleet is a fairly predictable motive. Still, Samantha Hughes and Nick Brimble do well as the opposing leaders and lend the vital gravitas to their roles to ground the story with its needed emotions and dramatic weight.
In the end, 'Max Warp' is a murder mystery that has more fun with the more bizarre aspects of murder mysteries and hardly takes itself completely seriously. Lucie's many flashy conspiracy theories and accusations of anything and everything are highly amusing, and the Doctor reveling in the mystery unfolding around him is a highlight, especially as the murder mystery turns into anything but. Paul McGann and Sheridan Smith again share a great camaraderie and bring an infectious enthusiasm to proceedings, and this enthusiasm is mirrored by the snappy pace buoyed by Barnaby Edwards's strong direction as well as the wonderful sound design that brings this futuristic and technological world to life so stunningly. While 'Max Warp' may not be the deepest or hardest-hitting Doctor Who offering, its confident storytelling ability, innately fascinating world on the cusp of re-entering war, and skewering satire of one of the BBC's most popular shows certainly make it a memorable one.