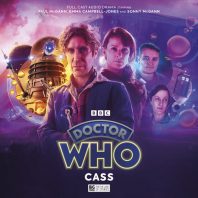 Released January 2023
SOME SPOILERS FOLLOW
Of the many celebrations and surprises that marked the fiftieth anniversary of Doctor Who, perhaps none was quite as profoundly resonant as the mini-episode 'Night of the Doctor' that finally brought Paul McGann's Eighth Doctor back to screens to allow him a true regeneration scene while also marking the entrance of the then-unknown War Doctor incarnation. To open this fifth volume of Time War, Cass, which represents something of a soft reboot for the series with companion Bliss absent, Tim Foley's 'Meanwhile, Elsewhere' highlights a very different type of meeting between the Doctor and Cass as the universe fractures and the end of everything seems to be imminent.
Strangely, despite the Doctor's great-grandson Alex Campbell being something of a known quantity to many Big Finish listeners through previous adventures outside of the Time War, no time is spent here introducing this character to more casual listeners. Of course, the fact that Time War 4 introduced an Alex from an alternate universe as a means of the Daleks manipulating the Doctor which thus eliminates the shared history that would have been present had the Doctor's genuine Alex somehow been brought back from his fateful demise so long ago explains part of this, but his presence and simply having the two in the middle of their adventures together is nonetheless a jarring shift that never really allows this Alex to fully develop as in a typical companion's introductory tale. Stranger still, the Doctor willingly taking a family member- and especially one whom he had lost previously- into the depths of the Time War that he certainly knows he cannot escape despite his best attempts seems far too reckless and impulsive for this incarnation in particular, and it does seem as though significant and necessary shared scenes between these family members have been omitted to allow this set to hit the ground running. Regardless, Sonny McGann gives an extremely confident performance as Alex that shows just how much his skills and delivery have matured since last voicing the character in 2011, showing this Alex to be truly excited about the prospect of traveling around the universe and comfortably able to take control of a situation through assertiveness and charisma.
Almost as soon as the Doctor saves everyone's lives on the EC-141 from alien insects that turn their prey into walking incubators an hatcheries, the Vice Captain accuses him of murder and threatens to imprison him. For once, though, the Doctor knows that the ship being diced throughout time and space with portals to disparate locales appearing across its inside has nothing to do with him, but he is still wary of the fact that someone aboard already knows who he is which he knows is rarely a good sign. As the search for an escaped creature blossoms into something altogether more frightening that shows just how ruthlessly opportunistic certain conniving individuals can be in even the most extreme and dire circumstances including the depths of the Time War, Jaye Griffiths superbly brings an immense gravitas to the role of the mercurial Hieronyma Friend who also challenges the Doctor on a more personal level than most.. While not necessarily a complicated story, 'Meanwhile, Elsewhere' takes advantage of a somewhat fractured and non-linear format to mirror the fractures in time to make its story much more intricate and engaging.
Of course, the reintroduction of Cass Fermazzi is the biggest boon for this story, and Emma Campbell-Jones adeptly steps into the role of new companion without ever missing a beat. She has an immediate and profound chemistry with both McGanns, and Cass's intense desire to explore and her supreme confidence and eagerness will assuredly serve her well after so cavalierly boarding the TARDIS. Cass has been saving up for a commission for years, and though she was caught drinking the night before departure and having a rather memorable confrontation with a Martian, she keenly shows up early to her first shift and instantly proves her worth and ability to adapt when events veer wildly outside of anything resembling routine as the Captain is taken out of the picture all too quickly. Cass has far more of a working knowledge of the universe than the Doctor's more contemporary companions have, and while there is obviously still a tremendous amount to learn about this character and to refine her characterization, her impact aboard this errand-class ship and within the Doctor's life is undeniable and sets a high bar for her ensuing adventures. Narratively, 'Meanwhile, Elsewhere' doesn't quite reach the heights of many other tales within the Time War Setting, but an engaging new core trio and excellent supporting performances help to bolster a somewhat lighter temporal-based plot that fairly heavily relies on its atypical format and visuals to bring its many linked locales and narrative threads to the fore.