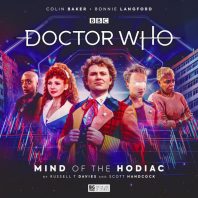 Released March 2022
SOME SPOILERS FOLLOW
Developed from a script written and sent to the BBC by once and future Doctor Who showrunner Russell T Davies long before he was involved with the programme in any capacity that he unearthed during the pandemic lockdown while looking for information to share with fans during scheduled global episode viewings and tweetings, 'Mind of the Hodiac' offers a fascinating early look into the mind that would become so influential in future years. With Scott Handcock helping to adapt the original script featuring the Sixth Doctor and Mel for audio, the interlinked tale of the mysterious Hodiac's manipulation of the Galactic Stock Exchange and of the psychic events plaguing an ordinary British family finally sees the light of day in this latest instalment in Big Finish's The Lost Stories range.
The Hodiac is an incredibly interesting creation, and the male searching for the female to unite while seeking to obtain godhood status in his current form unquestionably creates a daunting threat in the abstract. In practice, however, the male Hodiac is distinctly underwhelming and at times petulant, his scheme to raise funds to hire mercenaries for his quest hardly being the most dynamic and his brief demonstrations of power only offering a tease at the monumental power he already possesses. Comparatively, the Tungsten Warriors are fairly generic villains that never truly manage to distinguish themselves, and so this plot is somewhat lacking in a true sense of danger and often relies on characters voicing what that danger could and should be. Without needing to rely on such an immediate threat, the female Hodiac leads a much more emotionally satisfying arc that neatly ties in the importance of family that is always a hallmark of Russell T Davies's Doctor Who, and even if the mother and older daughter are perhaps a bit too consistently cruel and unkind to each other to really allow the message of true love with family to fully resonate when called upon, there is no doubt that this is the more charged and satisfying plotline that so clearly ties in the stylings of the 1980s with those that would become so dear to the 2005 iteration.
Coming from a script developed for television, 'Mind of the Hodiac' features a much larger cast than is typical for a Big Finish production, but that impressive ensemble gives uniformly strong performances that vividly bring the great scope and many nuances of this plot to life. Of course, Colin Baker and Bonnie Langford have been starring together in stories for Big Finish for over two decades to refine their characters' relationship that was only seen so briefly on screen, and their superb chemistry here again shows just how powerful this couple could have been had circumstances been different during Baker's televised run. With frequent references to The Wind in the Willows thrown in which correlate to the Sixth Doctor quite well in retrospect, the Doctor is at his most caring and proactive while never wavering from his moral fortitude, and Mel is sharp and incisive as she refuses to be overwhelmed by the incredible events before her. Alongside these two, Laurie Kynaston and Luyanda Unati Lewis-Nyawo give strong performances as the split minds of the Hodiac, and Annette Badland, T'Nia Miller, and Raj Ghatak are particular standouts in this strong cast that so expertly bring such a wide scope of motivations and emotions to the forefront.
'Mind of the Hodiac' may not be a revolutionary title in any sense, but there are some truly incredible ideas at its heart that Davies's typically robust characterization and themes further strengthen. Handcock and Davies work superbly well together to fuse their voices into one cohesive whole, and Rob Harvey's music and sound design are a brilliant highlight that perfectly capture the spirit of this story's intended era of a season twenty-four that never came to be. This story doesn't really fit into the original remit of this audio range given its origins, but it's still an important piece of history that offers a prelude of sorts to what the franchise as well as vital thoughts and tendencies would become decades later with Davies at the helm.