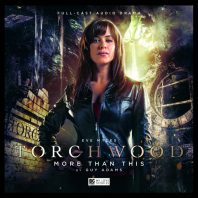 Released February 2016
SOME SPOILERS FOLLOW
Gwen Cooper has confronted the impossible and overcome insurmountable odds on more than one occasion, but Cardiff City Council Planning Manager Roger Pugh may finally be the obstacle that breaks her in 'More Than This' by Guy Adams. As she seeks permission to rebuild the Hub on prime real estate at a time when the city's pressing need is a series of new car parks, the bureaucracy and inability to expedite her application prove to be too much for Gwen, and she decides to take matters into her own hands and to show her single contact for the process just what exactly Torchwood is and what its members do.
Not that it really matters in a series that hops back and forth in time to tell its stories, but this first series finale very much has the feel of a series premiere and draws some nice inverted parallels to the Torchwood television premiere 'Everything Changes' as Gwen now highlights Torchwood's deeds to an outsider. This is the farthest forward that Big Finish has yet taken the narrative as Gwen tries to rebuild the fallen organisation in Cardiff, meaning that there are absolutely no constraints stemming from established continuity. With such a wealth of storylines and dangers suddenly open, it does seem a strange choice to tell the story through the flashback narration of Pugh, not because he's an uninteresting character but because this inherently eliminates any drama from the main narrative because of the knowledge that everything ends with no personal consequences incurred at the end.
Fortunately, this ride-along of sorts is extremely entertaining in its own right and emphasises a sort of greatest hits of Torchwood's actions for a complete outsider to witness and try to comprehend. Gwen has learned from her past experiences and has dedicated herself and her vision for Torchwood to protecting people without taking stupid risks, and she humbly understands the incredible importance of her role that so few know. There are assuredly still gaps in the character's logic at points throughout 'More Than This,' but Eve Myles brings out the intelligence, charm, and utter conviction of Gwen to spectacular effect at all points. Similarly, Richard Nichols gives a profound performances as Pugh, a man suddenly thrust into the middle of a world he never knew existed outside of the pages of the newspapers. The interspersed scenes of Pugh talking to his deceased wife at her grave allow an immense emotional connection with this man who knows that he is not a fighter, making his dedication and conviction to stay by Gwen's side all the more impressive. His self-entrapment in an unmoving but such painful and burdensome limbo because of his grief and inability to let go forms an emotional background rarely seen in guest characters, and his personal epiphany and gradual revelation about Torchwood's ability to offer hope both for him and everyone else provide a satisfying closure to both storylines underscoring this release.
While this whirlwind sequence of vignettes offering insight into Torchwood's operation does unavoidably feel somewhat superficial in both exploration and resolution, it does still allow for some incredibly poignant moments, perhaps none quite as satisfying as the leads' discussion about leaving a mark on the world before departing. 'More Than This' is not the deepest story and the narrative structure comes with both pros and cons by creating a spectacular connection and depth to Pugh that takes away tension from his time spent with Gwen, but the engrossing journey of the unsuspecting Pugh combined with the continuing Torchwood narrative on British soil complete with cameos by Tom Price's Sergeant Andy create a satisfying instalment that seamlessly meshes nods to the past with a bold look at the possible trajectory the organisation may take going forward.