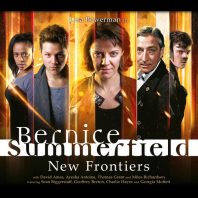 Released April 2013
The Advent season approaches on Legion, and the prospect of an old-fashioned holiday surrounded by friends and family is a remarkably traditional and peaceful one for Bernice Summerfield. Nothing is ever that straightforward for the intrepid archaeologist, however, but ghostly planets and waterlogged zombies are minor concerns compared to the secrets her friends have been keeping from her and the old enemy that waits in the shadows.
New Frontiers begins with Xanna Eve Chown's 'A Handful of Dust' as Bernice, Ruth, and Jack intercept a distress signal from Nemeqit, the most haunted planet in the galaxy. The legends of this ancient world state that a spurned deity devastated the planet and its population as its people looked more to technological advancement than to old beliefs, a story Bernice of course had heard countless times over throughout her many travels and studies. The childlike extraterrestrials Lud and Bel who are the models of perfection and who awoke with no memories when their dome cracked to find a world perfectly suited for their every need confront the trio almost straightaway, and Bernice soon finds herself tasked with discovering the very foundations of this planet's old religion for her unwitting hosts, realising all too well the incredible responsibility that this entails and the near impossibility of doing it correctly given the emotion and nuance needed for any belief system to resonate.
Unfortunately, the 'A Handful of Dust' seems to realise that its central mystery leading to the discovery of a living planet is one that has been used several times before, and it tries to incorporate several additional ideas that work with only limited success due to the allotted running time of this story. Thus, while Vonna Byzantium's search for new material for a new series of Paranormal Planets provides a few entertaining moments, it ultimately proves to be fairly inconsequential and seemingly included more as padding for the mystery around Lud and Bel. Likewise, while the dome serving as an egg for two new planets as its millennia-old mother dies is an intriguing spin on the sentient planet storyline, there isn't quite enough substance behind this revelation for it to deliver its intended impact, and even the characters seem to question its occurrence with a semblance of disbelief. As it stands, 'A Handful of Dust' doesn't quite deliver on the suggested eeriness of this haunted setting and doesn't quite manage to create high enough stakes despite the intrinsic danger, relying on the superb and nuanced performances of Lisa Bowerman, Ayesha Antoine, and David Ames to elevate the many plot threads.
Bernice, Peter, and Jack are drawn off course to Mortis Dock, the last manned shipyard in the cosmos that is now mysteriously deserted, in 'HMS Surprise' by Alexander Vlahos. Ships have been vanishing into thin air for too long, and there have been no records made there over the last year. Peter naturally realises that this mystery is more in his mother's realm of expertise, and it's nice to see that he is at least calling Bernice mother again despite the continuing tension between them as their investigation leads them to the mysterious Lucas Catch who was raised by a family of dockworkers and who now owns everything that is left here. This is a story that is unafraid to point out that Bernice is not quite as young and energetic as she once was, but she is as devoted to Peter as ever and willing to do anything to protect him when danger rears its head and dock workers seemingly grow out of the water like zombie shadows of the what they once were.
The revelation that an all-controlling being has been trapped for so long upon this derelict warship while trying to communicate through the ship's instruments and logs is an interesting one, though it does bear at least superficial similarities to the living planet aspect of the preceding story. Still, the introduction of the ancient Healer race that Bernice assumed to be only legend and whose members were born to inhabit and protect provides a fascinating backdrop for these events as Bernice's own righteousness is called into question and the reason for Lucas's survival is brought to light. As a fire warden who dedicated himself to saving others, Lucas represents the one avenue of redemption for this Healer who inadvertently chose to inhabit such an immoral object, and Geoffrey Breton gives a fittingly nuanced performance to bring to life this understandably scared but utterly honourable man who proves to be so vital to the mystery at hand. With a suitably chilling atmosphere and a fascinating new alien race begging to be explored in more detail, 'HMS Surprise' expertly captures the classic spirit of this franchise while slowly progressing the relationship between Bernice and Peter as the finale of this set approaches.
Avril Fenman has been biding her time, manipulating the people and incidents surrounding Bernice Summerfield for longer than she can remember, and now she arrives on Legion on Advent Day to reveal the many hidden truths as she seeks to reclaim her son in 'The Curse of Fenman' by Gary Russell. This is the story that should have ended the Legion box set to put the mystery behind the individuals of Bernice's motley team into context since five-plus stories of several engaging individuals interacting without meaningful backstory has always left a lingering sense of unexplored character development. As it is, each character gets his or her own well-deserved time in the limelight here, and with a surprising return to the written prose continuity that has been absent from this range for so long as well as an important reference to Big Finish's own Gallifrey range that is altogether more surprising given the lengths Big Finish has gone to in order to keep Bernice's Braxiatel distinct from the one featuring in that range, the end result is an intriguing but somewhat jarring experience overall.
Fenman has been able to gaze throughout all of time and saw everybody that she needed to gather in this particular time and place, in her eyes even managing to manipulate the grand manipulator Braxiatel himself in the process. Braxiatel, for his part, still does not know if this is his own universe or an alternate one, but he has come to understand the meaning of family while surrounded by these people that another version of him hurt so badly. Bernice wants to trust this man after having completely lost faith and trust in her own version so long ago, and this Braxiatel desperately wants to be the man that his alternate version never was. Yet these two versions are more intertwined than either could have anticipated as the Soul Sucker Avril Fenman who featured in The Squire's Crystal and three more written tales reveals that she tracked down the Braxiatel who left Romana at the Axis in Gallifrey and transported Pandora from his mind to Braxiatel's at the Collection.
Of course, Fenman is in possession of a crystal that can transfer her mind into the bodies of others, itself an implicit fact behind the creation of Peter Summerfield that has now brought her to Legion to reclaim what she believes is hers. This leads to a strong flashback to Peter's time in a labour camp following the fractured reboot of time that resulted from the actions of Bernice and Braxiatel during which he formed his relationship with Antonio while still holding out for his mother to come and rescue them. With Antonio's fate seemingly in doubt following an admittedly overplayed death scene when the slavers refuse to sell Braxiatel both individuals, the realisation that Peter's love for Antonio was so strong that some of Avril's energy could transfer into Peter is a convoluted and somewhat unsatisfying payoff to this relationship that had such a solid foundation during the brief time Thomas Grant and Sean Biggerstaff featured together. It's clear what the intended emotions from this sequence should be, but there simply isn't enough time to fully develop this relationship that could have anchored so many more stories before this otherworldly quirk enters the equation with little true consequence. Still, this does mark a return to the more dangerous side of Peter shown during his childhood and and hinted at from his reputation on Legion itself. Unfortunately, while some seeds could have been inserted more subtly into the preceding tales to present a more cohesive and resonant whole, the massive amount of information dropped without explaining why Fenman has chosen now to return is an important but stark ending to this set, and sadly Jack's history in a family of amoral lawyers and insurance handlers as well as Ruth's history as a woman who detested commoners and even killed her father to remain in the public's good graces as she sought to maintain power are almost completely lost in the bevy of material expanded upon here.
The stories all feature the usual strong production values, and because of the last story alone New Frontiers is an incredibly important addition to the overall Bernice Summerfield lore, but retaining all of the pertinent information about the major players for one solitary story has resulted in a very uneven ride overall. Still, all personal histories are finally revealed and known to all, and with everyone on equal footing the continuing adventures of this team should prove to be a series of even more fascinating affairs.