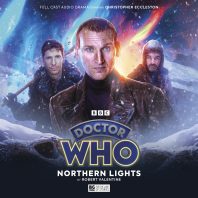 Released May 2023
SOME SPOILERS FOLLOW
The Doctor crash lands on Earth in the Arctic in Robert Valentine's 'Northern Lights,' crossing paths with the valiant explorers Hjalmar Johansen and Fridtjof Nansen as they try to return home from their famed 1890s expedition just as the Aurora Borealis takes on an even more otherworldly form than usual.
Doctor Who is certainly no stranger to the historical fiction genre, and the two Norwegians Johansen and Nansen are a brilliant addition here given the unyielding curiosity and determination underlying their spirit of adventure. Of course, an Arctic expedition is anything but easy, and the Doctor here finds two men who exhausted all topics of conversation long ago who are ultimately doing anything possible simply to survive in the most extreme of environments after setting a new record for reaching the farthest northern point and now slowly retreating to Franz Josef Land. With the TARDIS out of commission due to an alien influence, the Doctor finds himself welcomed into their company, and Gerard Kearns and Ian Conningham share a tremendous chemistry fitting of two characters who have experienced so much over the preceding years together and who continue to persevere no matter the weather conditions, food supply, or the seemingly endless journey in front of them. There's an obvious optimism underlying the harsh and stark reality of their situation that speaks to the Doctor's own mode of operating, and the Doctor is genuinely impressed by their resolve and knows implicitly that he cannot do anything here that may alter the established course of history.
Realistically, Valentine could have styled this as a pure historical with the Doctor struggling to survive in the elements alongside these historical heroes and it would have been wholly successful given the camaraderie and emotional range on display. However, the inclusion of the Aurora that evokes such immense visuals within an already highly-visual environment adds an intriguing extra element that features some of the most ethereal vocal tones Big Finish has yet provided thanks to the brilliant effects added to a strong performance from Ginnia Cheng. Of course, Johansen and Nansen realize that mentioning anything about the Doctor or the Aurora will get them locked up for insanity, but testing their resolve against such an unknown element that is looking to feed just like the hungry explorers keeps the events grounded in a foundational reality that allows the two to always remain involved on a meaningful level. Fortunately, the Aurora is presented as a very intelligent and reasonable alien even if perhaps too much importance is placed on its perceived state of advancement of certain individuals, allowing Christopher Eccleston to highlight his Doctor's own fortitude and even anger as he defends his new friends with logic and knowledge of events yet to come that must not be changed. With a resolution that is light on action and wholly dependent on dialogue, Eccleston's tremendous energy and the Doctor's tremendous conviction anchor the story and just about overcome the relative simplicity of the solution to the problem that likely could have and should have been revealed much earlier had an open conversation like this occurred without the threats of consumption overtaking affairs like presented here.
Obviously these two Norwegians are incredibly important historical figures beyond the record that they set on this expedition, and while the info dump from the Doctor when explaining why they can't be consumed is a bit forced and prolonged, the opportunity taken to educate the audience is very much appreciated and the coda in which the Doctor takes Johansen to finally see the North Pole is incredibly effective and emotional. As impressive and indomitable as Johansen's spirit is and how much it resonates with the Doctor, however, Nansen's contributions to zoology, oceanography, Norway's independence, and the League of Nations even better support the Doctor's arguments and unquestionably make him one of the most important and influential figures of his time. Even though history tells that Johansen and Nansen were alone, not having a companion for the Doctor as a seemingly everyday person with no legacy in Earth's textbooks does leave something of an empty space for the Doctor's argument to the Aurora and a missed opportunity for the Doctor to speak all that more passionately for humanity in general. Nonetheless, while the Aurora perhaps introduces as many narrative shortcomings as achievements, 'Northern Lights' as a whole is another engrossing tale makes the most of its setting and historical figures and that truly brings out the best in the Ninth Doctor who shares so much in common with these two men who are simply trying to survive and whose deeds will never be forgotten.