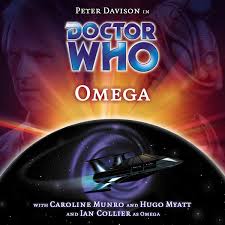 Released August 2003
Omega is unquestionably one of the most interesting and powerful foes in the long history of Doctor Who, but his two televised appearances in 'The Three Doctors' and 'Arc of Infinity' never managed to fully explore that power and the incredible backstory he possesses. As such, there was understandably some trepidation about what Big Finish could do with the character in the opening installment of their villains trilogy that also includes the likes of Davros and the Master, but author Nev Fountain quickly puts those reticent thoughts to rest with a powerful and engaging story that brings back Ian Collier to voice his memorable character.
There's an underlying theme about stories, both history and legend, that works exceedingly well. Depending on one's viewpoint, it's equally valid to think that the public can only cope with history through television and movies or through factual books. The pros and cons of both mediums are made obvious, but Fountain is not afraid to take a jab at Doctor Who itself as it is stated that historicals on television often focus more on entertainment than on fact. At the same time, what are presented as facts can quite possibly be the result of stories and legends told over time, and the complex theories fans have made to explain subtle differences in tales are the subject of ridicule- within the confines of the story- as well.
More intriguingly, though, is how people's perspective and public pressure can alter both personal accounts as well as history's recounts. Even as Omega reveals himself, delighting the historian with a rare chance to get real answers, his account of events from Time Lord history is called into question after such a lengthy period of isolation and the resulting insanity. The bond he formed with the Doctor in 'Arc of Infinity' leaves him unable to distinguish what he has done compared to the Doctor, but it's strangely touching to see Omega concerned about his reputation and how he is remembered. It's also a nice touch to bring the exiles of both characters into the conversations while the Doctor is afforded the opportunity to work with someone he still considers to be a role model. The tired and guilt-ridden Omega realizing that it was the Doctor rather than he who committed genocide of the Scintillians provides a very powerful scene as more truths and fictions of Omega are slowly distinguished.
Whether true or not, 'Omega' certainly provides some interesting background information about the the titular foe. His chosen name rather than the name Palix he had in the Academy- a Greek symbol- comes from the fact that his tutor awarded him the lowest possible grade, Omega, due to his reckless and dangerous nature. Additionally, the origin of the Hand of Omega from 'Remembrance of the Daleks' is revealed as Omega cut off his assistant Vandekirian's hand and placed it in the stellar manipulator after his assistant refused to have his print used as the key to a weapon of such mass destruction. The twist as the assumed Doctor is revealed to be arguing with himself, again tying into 'Arc of Infinity' nicely, is extremely satisfying.
The setting of a tourist ship giving tours to the place of Omega's disappearance, all the while reenacting key events, is a unique one and certainly plays into the slightly off-kilter tone of the story well. This also allows a clever introduction of Anita Elias's Glinda and Faith Kent's Maven who at first seem to be typical tourists loudly complaining but are later revealed to be a humanoid TARDIS and a Time Lady on a mission from the future to visit the Doctor as they look after the perception of history. This comes as a rather surprising revelation since they give no bother to Omega whom they consider to be a joke and a thing of the past. In truth, though, all of the supporting cast is quite strong in this release, especially Hugo Myatt as Daland.
'Omega' turns into a surprising treat that follows Omega after his escape following 'Arc of Infinity,' giving new life to the Time Lord of legend and exploring the Fifth Doctor in great detail while delving into his peoples' past. There are a few nice nods to continuity as Nyssa and Tegan's whereabouts are discussed and the fate of TARDISes whose owners die is discussed, but overall this is a strong standalone tale that shows just what Big Finish is capable of even with less prolific villains.