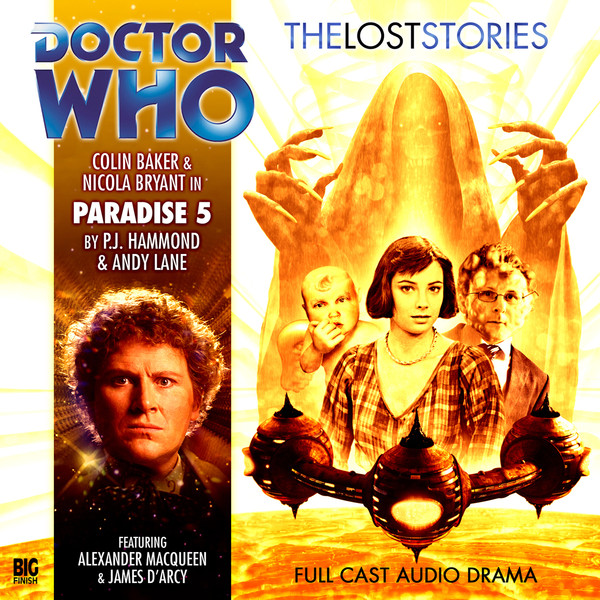 Released March 2010
After dabbling with the notion of the lost season twenty-three to begin The Lost Stories, Big Finish turns to 'Paradise 5,' a story originally intended to be part of The Trial of a Time Lord, to give a glimpse of an alternative season twenty-three. While this script having been dropped in favour of 'Terror of the Vervoids' is not necessarily a ringing endorsement for what may have been, Andy Lane has managed to craft a genuinely entertaining story based off of PJ Hammond's incomplete original, replacing the original trial scenes with greater plot development and placing Peri by the Doctor's side due to Bonnie Langford's unavailability at the time.
The Doctor and Peri land on Targos Delta to visit the Doctor's old friend, Professor Albrecht Thompson, but they soon find that he has not been seen since his departure to the leisure resort of Paradise 5. As they begin to undertake their investigation, though, they realize that they must do so furtively, for this version of paradise holds a terrible secret beneath its shiny veneer, a secret about which the mute and enslaved Cherubs know all too much. Whether intentional or not, the very concept of this expanding murder mystery shares some inherent similarities to the story that would come to replace it, but 'Paradise 5' weaves tension and excellent imagery together in its investigative portions of the plot to truly set it apart, even if the multidimensional Elohim and their use of the Paradise Machine to recruit foot soldiers for their civil war is a bit too abstract and esoteric to fully resonate as much as the preceding mystery itself.
Where The Lost Stories continues to truly shine, though, is with the writing of the Sixth Doctor and Peri, and the use of a modern writer to adapt a classic story provides a fantastic blend of characterization that links the two eras seamlessly and shows immense personal growth and evolution for the two leads. It's quite clear that Colin Baker and Nicola Bryant are relishing the opportunity to revisit and refine the more brusque relationship of their characters' early days together, showing what could have been with more time together if circumstances had allowed. Nonetheless, Baker effortlessly switches from egocentric and biting to funny and thoughtful as needed, and Bryant superbly anchors the first two episodes with a performance that highlights the dynamic and proactive aspects of her character that were rarely touched upon in the classic series.
Even with the necessary script changes and the predictability surrounding the miraculous Paradise Machine, 'Paradise 5' is a strong entry into this burgeoning series and provides an excellent link between where the Sixth Doctor started and where he is now. Andy Lane must be commended for so seamlessly weaving new material and scenes into a partially-extant piece of work, and director Barnaby Edwards manages to keep the mystery and revelations moving at a satisfying pace. Simon Robinson's distinctly 1980s soundtrack also lends a nice air of nostalgia to proceedings, and the double act of Alex Macqueen's Gabriel and James D'Arcy's Michael is supremely ominous and entertaining throughout. Although the notion of the Elohim and the civil war amongst higher dimensions can't quite be as substantially realized as intended, it ties nicely into the overall mystery, providing a genuinely surprising twist that allows this nuanced thread to remain perfectly accessible by creating a very personal connection.