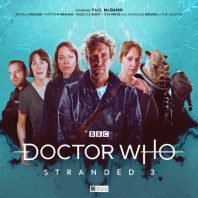 Released December 2021
SOME SPOILERS FOLLOW
As Stranded 3 begins, the TARDIS is still healing, but it can now take its passengers through time if not space. The future has changed, however, and a malevolent force appears to be guiding humanity's development and destiny; as the Doctor decides to investigate this paradoxical timeline with a Judoon in pursuit of him and his friends in Tim Foley's 'Patience,' he comes to discover that far more than just Earth's fate has been altered.
The Eighth Doctor has featured in many of the more experimental stories and storylines that Big Finish has offered, and 'Patience' is certainly one of the more unique titles in a series that is quite proudly a break from the Doctor Who norm. This works both to the plot's overall benefit and detriment, though, in a story that takes on something of a fairy tale quality as Paul McGann's dulcet tones frame the split companion narratives with a parable that becomes all the more meaningful as the strange truth is finally revealed following a lengthy and purposefully ambiguous setup. The Doctor is far removed from the events that see the separate pairings of Andy with Liv and Helen with Tania try to come to terms with where exactly they are and little to no memory of how they came to be there, but he serves as something of a steadying force to ensure listeners that the confusion does have a purpose both in his linking narration and in his distanced vocal cameos within the others' scenes before finally revealing how these disparate events are so intertwined.
With tea leaves and cards hinting at something else guiding events and Tania in particular witnessing incredible views of a strange future, these two parallel plots offer plenty of intriguing moments, and the choice to feature these two pairings in particular allows for some strong character work and drama to manifest in a more intimate format than would typically be possible with such an expanded cast. The open-heartedness and innocence of Andy works perfectly against the more hardened Liv, and Tom Price and Nicola Walker excel as these two very distinct personalities come to rely upon each other while learning about each. Likewise, Hattie Morahan and Rebecca Root both give strong performances that capture the unease, doubt, and self-assuredness that Helen and Tania experience in due course, and a surprisingly poignant discussion is at least hinted at when Tania begins to wonder just why she has not been paired with Liv in whatever task this is that they are sure the Doctor must have assigned them. This is actually quite resonant as it allows the different experiences of these two alongside the Doctor to come to the forefront regarding the levels of trust each has in him, and although Helen is not one to unabashedly proclaim that the Doctor is always right, her willingness to stick up for him even if just by invoking his alien nature is a nice touch that understatedly captures the incredible range of emotions she has felt as well as the Doctor's true intentions that she has repeatedly witness while traveling aboard the TARDIS.
Ultimately, although the two companion storylines take up the majority of the running time, each feels somewhat incomplete and unresolved given the Doctor's importance in reframing what has occurred at the end. Nonetheless, while the Doctor posits about the woman who gave him a very unique set of cards that have allowed the creation of a time loop and shards of the Judoon that can continue their pursuit afar, the sheer power of what has been released and its relevance to the past, present, and future is undoubtedly effective and retrospectively enhances all that has come before its reveal. Thus, while the much-advertised return of the Judoon is something of a misnomer, Nicholas Briggs is nonetheless superb in his scenes alongside McGann in which the creature is challenged to confront what he has been repeatedly going through and to break the cycle, in the process becoming part of the TARDIS's attempts to learn more about this paradoxical universe and the enigmatic figure behind the Judoon's employment. 'Patience' is by no means a story that by itself significantly advances the overall plot of Stranded, but the strong character work with more intimate moments as well as the clever ideas that are sure to shape the narrative going forward are all exceedingly well done and help to create a unique experience that just about overcomes the extreme imbalance in revelations that the format so directly skews to the last quarter.