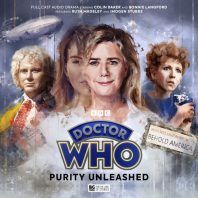 Released May 2023
SOME SPOILERS FOLLOW
Continuing their search for Hebe after a detour to 1930s New York, the Doctor and Mel in Chris Chapman's 'Purification' next arrive in New Zealand in 1910 just as Captain Robert Falcon Scott and his crew are about to embark on their Terra Nova expedition to the South Pole. While the Doctor assumes that a plan must be afoot to save this journey from its ill-fated end, however, he soon finds that an altogether different plan for history has been set in motion.
While 'Purification' does not offer any sort of resolution to Hebe's erasure, it very much serves as the followup to the dramatic cliffhanger from Purity Undreamed that the first story in this set should have addressed. While it is somewhat underwhelming that Hebe seems to have been the victim of an unintended consequence, the fact that Patricia McBride replete with new time suit is expanding her attempts to better the human race in her own misguided vision is an exciting prospect that finally gives this arc a genuine threat and sense of gravitas. McBride is an extremely intelligent and even charismatic individual, and although her plan to ultimately spearhead a new political party touting her mindset is based on rather incongruous actions that by themselves seem rather inconsequential and even kind, the precision with which she can act is terrifying and creates a distinct menace akin to the Meddling Monk with a purpose or Elizabeth Klein with the means. While McBride does seem to take a more overtly evil turn by story's end, Imogen Stubbs gives a powerful performance throughout that shows that her character is more than capable to going toe to toe with the Doctor as she gives in to the thrill and possibilities that time travel can afford her.
It's not often that the Doctor doesn't at least have an inkling of what is occurring before him, and typically his assumptions and presumptions at least touch upon the truth. Here, however, his assumption that the Terra Nova expedition is integral to some nefarious plot to change time is only tangentially related to the truth that instead relies upon saving the life of one deckhand and then having him meet a particular woman. As McBride travels through time to save this couple and their daughter from a bombing, her plot begins to come into focus and then crystallizes when she gives a motivational speech to that young woman at Cambridge years later. This presents an intriguing mixture of intimate storytelling and grandiose planning, and although the small vignettes featuring the Roddens do not necessarily have the time to fully develop and resonate, they again highlight the intrinsic power to reform certain events that McBride now possesses. Still, Jonny Weldon and Leah Brotherhead give engaging performances as Thomas and Elizabeth, respectively, and together they add a strong degree of humanity to McBride's plot that makes even the Doctor pause despite knowing that history has gone distinctly off course.
'Purification' does very much feel like just the first part of a bigger story given McBride's descent into apparent mania and evil following her continued interactions with the Doctor and Mel, and so there really is no great sense of resolution or heroic accomplishment here. Still, with Colin Baker and Bonnie Langford again giving brilliant performances as they try to piece together the divergent history before them with the Time-Space Visualizer making a surprising appearance, the sense of humanity and empathy at this story's core along with the unique and chilling menace McBride with her suit represent provide an engaging outing that seems to solidly set the foundation for an altogether more momentous concluding story.