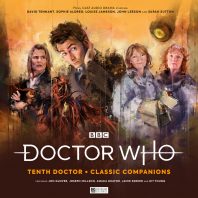 Released September 2022
SOME SPOILERS FOLLOW
Tenth Doctor Classic Companions draws to a close with Roy Gill's 'Quantum of Axos' as the Tenth Doctor and K9 who are continuing to clean up in the wake of the Time War cross paths with Ace who is investigating a new tech company promising the world. The Axons have escaped their time loop trap, however, and the details within the fine print have never been so consequential.
Of course, technology continues to be ever more pervasive in almost every aspect of everyday life, and the general population willingly gives over personal information to technology companies to share in the latest fads and communication systems and to make mundane tasks easier and faster. Continuing her worthy work to help orphans and underprivileged children with A Charitable Earth, Ace becomes suspicious when delving into a new company's offers to boost her company's profile through a distribution event. Never quite committing to one set selling point and offering anything and everything that could be desired, the company and its pitch continue to raise red flags, none more glaring than a startlingly accurate picture of a younger Ace that photographic age regression technology could never achieve.
The Axons may not be one of Doctor Who's most famed menaces, but their unique threat of being able to replicate any substance or item while also absorbing energy is unquestionably a monumental one. With limited time travel abilities as well, the Axons are used to good effect throughout this story, and their subtly intrusive means of quite literally taking over and changing new users under the guise of expanding technologies is a fitting metaphor for the modern world and the continuing need to be faster, more connected, and more updated. However, the Doctor pointing out that the repetition of their gambit to win him over through nostalgia- itself a strangely jarring sentiment no matter its relevance to the story given Big Finish's foundation being built upon nostalgia- brazenly brings into focus how unoriginal the Axons are no matter how malleable they believe themselves and their gifts to be. While obviously Axonite can become anything and so can present a threat at any moment in any circumstance, their lack of subtlety as they continue to put themselves front and centre opens a glaring hole to be exploited while unquestionably leaving much more room for a more nuanced and altogether more frightening invasion should Big Finish ever revisit the Axons again.
The more mature Ace running A Charitable Earth has begun to receive more exploration in recent years, and Sophie Aldred wonderfully exudes a calm confidence that still maintains the pure excitement of Ace's younger self. Indeed, Aldred wonderfully differentiates those levels of maturity as the Axons quite literally bring her younger self forth, and her continuing loyalty to the Doctor as she continues her own fight for humanity is a testament to both characters. Aided here by K9 whom she received as a gift previously, this Ace has very much picked up elements that Sarah Jane Smith made famous, and her willingness to investigate when she perceives something to be off again expertly combines that youthful enthusiasm with a more cunning wisdom. Naturally, not all is at it seems, and when the Doctor arrives with his own K9 model, the scope of the Axons' plan quickly comes to light while allowing John Leeson the rare opportunity to act alongside himself as the two models' combat with insistent logic. The presence of K9 allows for a loop to be closed, however, with Ace and K9 set to continue together in the future, a grand visual ripe for further exploration and a fitting reminder of the Doctor's continued care for companions who have left his company. And, naturally, David Tennant is superb as the Doctor, highlighting his incarnation's determination, fierceness, intelligence, and compassion in equal measure. Tennant and Aldred share a brilliant chemistry as they work to uncover the mystery and dangers within this story, and the Doctor's offer to Ace to join him aboard the TARDIS once more feels both sincere and earned after their time together here. While the Axon plot itself may be repetitive and somewhat lacking in ingenuity given what has been shown before, the sterling performances from the three leads and the genuine emotion at this reunion's core help to create an immersive and rewarding experience for fans of both eras of the franchise.