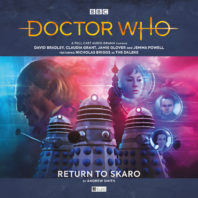 Released March 2020
SOME SPOILERS FOLLOW
Marking David Bradley's first true encounter with the Daleks in what chronologically is the First Doctor's second, 'Return to Skaro' by Andrew Smith opens up The First Doctor Adventures Volume Four with a direct sequel to the beloved serial 'The Daleks' which so successfully made Doctor Who an instant cultural phenomenon. Attempting to return his human companions home via the fast return switch but inadvertently landing on Skaro long after their previous exploits instead, the Doctor soon finds that, while the Thals have continued to develop their city with the advent of Dalek technology, the Daleks themselves aren't nearly as dead as he believed.
Returning to Skaro so early in the Doctor's travels is an opportunity laden with both opportunity and potential drawbacks, especially given the known trajectory of the Dalek race and the sheer volume of Daleks stories that have been told in various forms since the original aired. Thankfully, the soundscape expertly captures the vastness and bleak sense of despair that pervaded this planet on screen, and the more deliberate pacing of events and revelations perfectly evokes the intended era even if the plot follows a more predictable course precisely because of those afore-mentioned reasons. Taking 'Return to Skaro' purely as the second Dalek serial, there's an immense amount of fun to be had here, and the Thals memorializing the Doctor and his companions for their previous exploits as they adapt to their changing world while driving down the radiation levels is a brilliant hook that explores the repercussions of events in 'The Daleks' magnificently and respectfully. However, the subtlety that makes that original so tense and powerful is largely forsaken here for more action and revelatory set pieces that can't quite manage to sustain the intrigue despite successfully fusing classic and modern storytelling notions.
With some of the twists lacking the intended impact and Jyden coming off as more impetuous and exasperating than necessary given his importance with Susan especially, 'Return to Skaro' instead relies on nostalgia and its dynamic core cast to really capitalize on the unique opportunity this story's chronological placement allows. By now, David Bradley, Claudia Grant, Jamie Glover, and Jemma Powell have become intimately familiar with their characters and their unique reflections upon their original televised counterparts, and all four manage to perfectly capture the growing sense of amiability and mutual respect that likewise occurred on screen. For his part, David Bradley showcases a bravado and curiousness that works wonderfully for this take on his incarnation, and the Doctor's previously unknown love of the limelight is a delight that his companions certainly don't fail to register. Indeed, in what is certainly no easy feat to accomplish, each actor manages to make it seem as though they were all involved in the events of 'The Daleks' together while showcasing a genuine familiarity for the Thals, the Daleks, and Skaro that makes the experience all the more immersive as a result.
Still, despite a resolution that is signposted from the start, 'Return to Skaro' is a natural sequel and an unabashedly dedicated tribute to the past that slots into established Dalek continuity perfectly. Nicholas Briggs as always is superb as the Daleks, and this reverential look into the next step of their progressive domination of Skaro and beyond highlights again just how much story there is left to tell in every nook and cranny of the Doctor Who universe. This by no means reaches the amazing heights that other instalments in this series have achieved, but it will certainly appeal to Doctor Who fans of all ages and gets this fourth set of tales off to an enjoyable start that breezes by effortlessly.