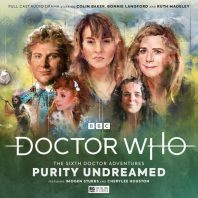 Released August 2022
SOME SPOILERS FOLLOW
Now acquainted with the Sixth Doctor, Mel, and Hebe, Professor Patricia McBride in Jonathan Morris's 'Reverse Engineering' asks the trio to investigate a secretive Swedish clinic she has been invited to that is purported to restore youth to wealthy patients. As is typical for the Doctor, however, the truth is far more dangerous than what is promised, and humanity soon finds itself at risk of succumbing to a temporal catastrophe.
As the previous story intimated, Patricia McBride is set to become the latest companion for the Sixth Doctor, and the decision to add another character to the TARDIS so soon after adding Ruth Madeley's Hebe Harrison once more means that Hebe is relegated to the sidelines much more than she deserves to be. That one companion is often minimized in three-companion stories is by no means surprising given how so many stories with three companions have unfolded over the years, but bringing Patricia aboard is nonetheless perplexing given how much still remains unknown about Hebe and how dynamic Madeley is in the role. While this is no fault of Imogen Stubbs who is every bit as committed to her role, Patricia through two stories at this point is simply not an interesting character and is far too acerbic to gel seamlessly with the remainder of the leads. Perhaps this characterization has a purpose that is yet to be revealed, or perhaps she will undergo a softening to mirror the Sixth Doctor's own journey that Big Finish has so expertly fleshed out over the years, but it makes for a jarring experience here that only detracts from the overall camaraderie that so typifies Doctor Who tales and those associated with the Doctor. With the Doctor also involved a bit less than expected even with Colin Baker giving a typically energetic and charismatic performance, this makes the focus on Patricia and her obvious character flaws all the more frustrating and only further highlights the tremendous chemistry the other three leads have.
Perhaps surprisingly given the expanded TARDIS roster, it's Mel as the established veteran who carries the script, and Bonnie Langford is wonderful as Mel confidently gets into the Institute, avoids creating a paradox stemming from Patricia's summons, and helps with the evacuation as events reach their most dangerous levels. Unfortunately, the plot is fairly generic by Doctor Who standards, and while the notion of a technology that can rewind time- taking people's memories from that period of time as a side effect- is intriguing, the all too traditional path that the increasingly crazed geneticist Killian Holm traverses as he singularly turns his focus to purifying Homo sapiens DNA at its historical foundation is absurd and relies on a total dearth of logic in the character who is obviously a product of the DNA he is hoping to change. Likewise, while the technology is unsurprisingly alien in nature, it is difficult to envision how the characters can continue to move forward in time while the crashed alien ship they are within continues to repair itself via continually reversing time, especially as pieces of the ship fly past them as they come back together. It's also unfortunate that 'Reverse Engineering' relies on the idea of introducing a new alien menace as the last remaining member of a species that tormented the galaxy so very long ago, relying on the Doctor's recounting of historical misdeeds to state rather than to show what the actual threat might be and losing much of its sense of consequence as a result.
It's hard to say if 'Reverse Engineering' needs more time to fully explore its ideas to allow them to resonate or if it's just an average story that suffers from its focus on an unlikable character. Regardless, it's the performances of Baker, Langford, and Madeley that stand out in a story that certainly does maintain a good sense of pace, but as a whole it in no way manages to highlight the apparent need to further expand the TARDIS roster and is an unfortunately unfulfilling experience.