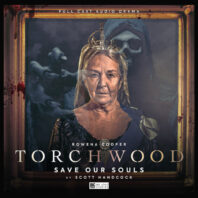 Released July 2020
SOME SPOILERS FOLLOW
In a spiritual successor to 'Fortitude,' Torchwood once more returns to the time and influence of Queen Victoria in Scott Handcock's 'Save Our Souls.' Traveling to a remote island where an experimental radio mast has been picking up a strange voice that claims to know the future, five individuals seek to learn the truths it represents and foretells.
Given just how experimental the Big Finish Torchwood range has increasingly become, 'Save Our Souls' does stick out a bit more because of its familiar plot elements and often obvious and expected revelations. However, even as the supernatural component is introduced fairly quickly, the superb sound design, characterization, and performances as each person is confronted with a grave threat easily elevate the production to truly enthralling levels. Unsurprisingly, the technology of the time- with Torchwood's more advanced stylings naturally present- is a prominent focus, and Steve Foxon has brilliantly accentuated Rowena Cooper's vocal stylings to expertly deliver a tangible yet ethereal menace that is wholly fitting of this particular setting. Calmly powerful and unsettling while delivering flat truths of the past and ominous warnings for the future, this voice is a gripping narrative force and easily carries the plot as individual deaths continue to mount and the power of paranoia and the belief in an even greater power in various forms come to the forefront.
Cooper, of course, has already made a profound impact as Queen Victoria, and she once more brings a fierce determination to this monarch who will so clearly do anything to retain power and yet remains unable to help but become wholly and emotionally invested in the tense occurrences around her. She excels with the nuances of her dual roles and unabashedly proves just how much Victoria can still offer the world of Torchwood given the respect and attention she demands in every scene as she balances her very human emotions with the weightiness and expectations of her position. At her side amidst the interpersonal drama stemming from very palpable fear, the remainder of the small but powerful cast always perform with total conviction, expertly bringing an earnestness to some events that could have been played more comedically and with less effect as a result while always delivering the maximum emotion needed for the more introspective moments. Kingsley Amadi, Wayne Forester, Gruffudd Glyn, and Gwyneth Keyworth are pitch perfect throughout, and this unexpected meeting of these characters from very different walks of life with very different experiences makes for an enthralling listen from beginning to end.
The basic premise of 'Save Our Souls' is assuredly one that has been explored many times before, but Handcock nonetheless manages to craft an engaging tale that makes the most of its isolated environment and its motley assembly of characters while never losing sight of the genuine humanity at the core of Queen Victoria and the unique relationship that she holds with Torchwood in this formative time with its legacy anything but assured. With the power of prophecy and the credence lent to it regardless of thee foretold event coming to pass as told or not, this very personal drama with a supernatural twist is another strong entry in this range that continues to excel no matter which characters and time periods are in focus.