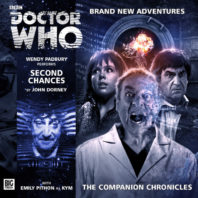 Released June 2014
As The Companion Chronicles in its monthly format draws to a close with John Dorney's 'Second Chances,' so, too, does Zoe's arc first introduced in 'Echoes of Grey.' When a news report triggers memories of a dangerous adventure with the Doctor and Jamie, Zoe senses an opportunity for redemption to rectify her earlier mistakes that have led her into the Company's grasp.
As would be expected, the opening of this story follows the format of this arc's preceding serials as the Company tries to unearth Zoe's memories that the Time Lords have so effectively blocked. Pushed by the adept memory engineer Kym, Zoe comes to realise that the events on the space station Artemis she is remembering from forty years in her past are set to occur just a couple of days in the future, allowing the past and present to blend beautifully with Wendy Padbury's emotional narration a wholly effective link as the prospect of change consumes her. This setting is where Zoe learned that she is not always going to be smart enough to make a difference, and her failure to save the people aboard from a computer virus that tore through flesh and metal alike was a formative experience. And while she does retain a shred of disbelief at the start even though she knows how the story is going to unfold when she does remember, physically seeing herself on the station alongside her erstwhile companions is the definitive proof she needs to realise just how much of her memory remains sealed away at this time.
In a story about the importance of memories and just how the memory can also cheat, 'Second Chances' does well to also include Kym who has been taken off of the Company's payroll and is looking to get back in its good graces not by saving the endangered people aboard the station but by capturing the virus and presenting it as an offering instead. As Zoe realises that the Earth will inevitably leave Artemis to the same fate as the Apollo station to prevent further collateral damage, she boldly confronts the reality of the situation that has come around for a second time, wondering here if she could change history and prevent the Company from ever imprisoning her in the process. Yet in a manner befitting of the modern television series, she comes to realise that the past has already been written and that the insertion of her older self must have always occurred so that events could play out as she witnessed, and her eventual realisation allows her to instead focus on her memory of the computer virus's code to turn its threat against the Company before destroying itself, providing an immense victory for this fiercely intelligent character that proves that her willingness and ability to fight back against evil will never wane.
Naturally, 'Second Chances' is filled with certain obligatory scenes such as Zoe meeting her younger self and asking the Doctor and Jamie to always remember her, but Dorney also takes the audaciously bold step of dovetailing her memory of a falling star that proved to be a shuttle carrying herself with the seeming death of her older self in a triumphant bow. Given that the ultimate fate of this Zoe is unknown, this is a profoundly powerful moment, but the abrupt decision to not follow through with this idea becomes all the more glaring and underwhelming as a result. Still, 'Second Chances' with the hope underlying its bleak message of no second chances is another fine example of the character-driven and emotionally engaging stories that The Companion Chronicles has routinely delivered, making the most of Wendy Padbury's incredible performance and the usual strong direction and sound design to end this current iteration on a distinct high.