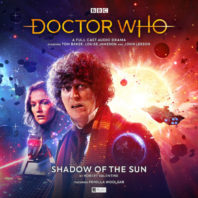 Released May 2020
SOME SPOILERS FOLLOW
Originally planned for release in 2024, 'Shadow of the Sun' by Robert Valentine instead arrives as the perfect opportunity to highlight just what Doctor Who and Big Finish are capable of even under the strict physical and social limitations that the COVID-19 pandemic has brought with it. When the TARDIS lands on a luxury star-liner to self-repair after flying through a temporal nebula, the Doctor, Leela, and K9 assume that having to mingle at a cocktail party will be their biggest challenge. With the liner on a direct course for destruction and nobody on board alarmed by that information, however, they soon find themselves in the odd position of trying to save those who don't want saving.
Given the uncertainty of life and any return to a semblance of normality at this time, this move by Big Finish is essential both to provide entertainment and distraction to fans in the short-term and to prove that their plans for future audio recordings in the long-term at least have the potential to come together through remote recording and post-production techniques. Indeed, the quality of the sound, effects, and music is so strong that it would otherwise be impossible to distinguish it from stories made under more traditional conditions, and that is in no small part thanks to the superb direction and communication throughout from everyone involved across such vast distances. It helps, of course, that many of the members involved in this production have worked together before and so implicitly understand the process and each other, but the resulting quality is nonetheless an impressive testament to everything Big Finish has been able to create over the decades and bodes incredibly well for its future no matter what circumstances the world at large may be facing.
Fortunately, the actual story is plenty intriguing in its own right, and its fixation on the power and persuasiveness of belief and false information is highly topical and resonant at this time. One subplot does perhaps veer a bit too closely to 'Voyage of the Damned' as this star-liner hurdles towards a sun, but the unfaltering belief in a better existence beyond an incredible boundary that even the Doctor and palpable facts cannot curtail makes for a fast-paced narrative that easily overcomes its fairly basic rescue from disaster premise to set up and deliver an immense climax that is among this range's most profound. In just two episodes, Valentine brings modern ideas into a classic context and helps to deliver a story that still perfectly fits into its intended era.
Tom Baker excels as the Doctor gradually comes to understand the true severity of this situation and becomes wholly earnest and dedicated to what he believes is right, and Louise Jameson and John Leeson easily carry significant portions of the narrative as they explore the star-liner with unexpected trouble at nearly every turn. Barnaby Edwards is perhaps the most memorable guest star as both an autopilot that is all too literal and remorseless and as First Officer Hix, but Paul Herzberg as the ill-advised but confident Dr Suleimon Zorn as well as Glen McCready and Fenella Woolgar all help to make this star-liner a dynamic environment filled with layered characters. In every respect- and regardless of the circumstances behind its recording and production- 'Shadow of the Sun' is an undisputed highlight of The Fourth Doctor Adventures and a perfect example of how to overcome adversity and how to blend modern and classic ideas to provide entertaining and thought-provoking material to showcase the best of Doctor Who and Big Finish.