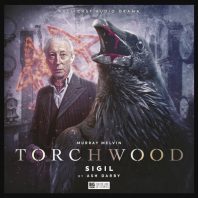 Released August 2023
SOME SPOILERS FOLLOW
Introduced as a servant of Abaddon who could travel in time and see potential futures, the sardonic and unassuming Bilis Manger as played by Murray Melvin quickly became one of the most enduring and enigmatic figures of the Torchwood universe. Rightfully so, Big Finish has continued to explore and develop this fascinating character in its own Torchwood releases, and with the unfortunate passing of Melvin on 14 April 2023, 'Sigil' by Ash Darby represents the distinguished actor's final contribution to the monthly range as a young Sam who has been haunted by the Sigil for years sees it on a statue in the window of Bilis Manger's shop.
With its smaller casts and typically more intimate storylines, the monthly Torchwood range has often excelled at fleshing out the inner workings of its characters and the dynamics of their relationships. Sam is a young woman whose life has been guided by this mysterious Sigil, having drawn the pattern since she was a child and now selling prints of her artwork featuring the design. She just about manages to get by as most struggling artists do, and her boyfriend Emil is there to offer support and to keep her focused on the future. However, it transpires that Emil is perhaps not as unflinchingly supportive as he first seems, disagreeing with Sam's artistic visions while trying to nudge in her a different direction and even disposing of prints when the opportunity presents itself. This type of relationship is certainly not an uncommon one for creative types trying to find their footing and place in the world, and Angus Imrie quite adeptly portrays the nuances of a partner looking to straddle two competing sets of desires. However, Sam is anything but a timid or noncommittal individual, and Gabrielle Brooks is just as brilliant as a woman who can deftly turn a conversation with Emil in her favour and who is wholly committed in every sense to following the truth behind her Sigil once she sees it displayed in Manger's window.
As expected, Melvin gives a truly stunning performance as Bilis, bringing out the character's seeming nonchalance and ambiguity absolutely perfectly. He clearly knows much more than he claims about the Sigil even while proclaiming that an anonymous source he cannot track bought the statue after Sam saw it, and his benign demeanour that in this case seems to verge on quite friendly and helpful as he offers Sam as much information and materials as he can provides a perfect conduit through which Sam can continue to explore herself and her past. Unsurprisingly, the Sigil is implicitly intertwined with Sam's familial past, and once nightmares begin after reading parts of a reverend's journals that Bilis gives her, she proves that nothing will keep her from fulfilling her destiny in which Bilis is so directly involved. The two go on quite a tense and very atmospheric physical journey together as they look to uncover the Sigil's true meaning, and both Brooks and Melvin do well to portray characters who know far more than either is willing to reveal to the other due to personal histories and agendas.
Despite the shifting and shrouded dynamics in play as Sam begins to more overtly answer the calling the of the Sigil, 'Sigil' as a story doesn't do too much to advance the story of Bilis or of Torchwood in any meaningful capacity. It unquestionably serves as a brilliant reminder of just how much Bilis has experienced over such a very long time on Earth, and it expertly serves as a fine example of his proclamation that he is neither good nor evil but simply serving to balance both, but despite a unique conclusion in which both Bilis and Sam are at the mercy of each other's patience, little new is offered about Bilis as a person or entity. Nonetheless, the developing and dynamic relationship between these two is an incredible foundation, and that between Sam and Emil provides a very grounded counterpoint to the intense history and grander designs that slowly come to reveal themselves. Without question, though, it's a fine showcase for Bilis Manger the beguiling character and for Murray Melvin the entrancing actor, allowing each one more momentous and truly memorable outing.