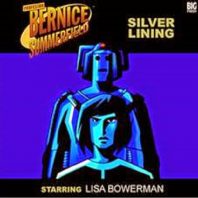 Released December 2004
Released in Doctor Who Magazine #351 as a free story along with an introductory tale for Big Finish's UNIT series intended to draw listeners' attention to the ever-expanding world of Doctor Who spin-offs within the audio medium, 'Silver Lining' sees renowned archaeologist Bernice Summerfield travel to the planet Tysir IV, a planet that's not quite as dead as she's been told.
Coming at the end of the fifth series of the Bernice Summerfield range but also attempting to expand the character's reach to those who have never listened before without sacrificing all established continuity is a tough task for a brief thirty-minute adventure, and writer Colin Brake opens 'Silver Lining' with Bernice recording a message to explain her absence from the Braxiatel Collection to ensure new listeners know that Bernice does not always act on her own. Here she accompanies Lynton Jellis at his request to open a mysterious tomb, though the impossibly perplexing logic puzzle blocking entry is sadly anything but in order to allow the plot to advance. Not that the Cybermen tombs have a history of being well-protected, but any intention of showing Bernice's intelligence is slightly undermined by her solving the puzzle so quickly and easily.
Of course, this all ends up being a trap, and Lynton being such a self-professed fan of Bernice's naturally covers a darker intention. This is a perfectly logical approach for a short story with such a small cast to take to provide personal drama, but it is all too glaring that the same conceit was used in the feature-length 'The Greatest Shop in the Galaxy.' Nonetheless, even without the time needed to make the relationship between these two flourish and the quick betrayal fully resonate, Nicholas Briggs gives a strong performance as Lynton and shares an immense chemistry with Lisa Bowerman who once more effortlessly displays an incredible range of emotion as the intelligent and humorous Bernice again finds herself in unexpected territory.
The physical strength and dedication to logic of the Cyberman in this tomb makes for an intriguing contrast to the more freewheeling Bernice, but it is interesting to note that Bernice becomes the more unfeeling of the two as she puts her escape plan into motion. Still, the dynamic that forms- again between Bowerman and Briggs- easily carries the second half of the story and puts on full display the strengths and weaknesses of each. 'Silver Lining' doesn't necessarily innovate or do anything tremendously unique, but as a sampler of that this range can offer it nonetheless offers a suitable compilation of some of the greatest hits of both Bernice and the Cybermen. Though very much a story of two halves as Lynton discovers first-hand just how deadly the Cyber threat can be, the simple logic and steady pacing underlying the plot keep events from ever feeling disjointed. This is absolutely a story with enough ideas to be fleshed out into a feature-length story to allow for some additional emotional impact, but the high quality of this release even in its brief format is an engaging little addendum in the ongoing saga of Bernice Summerfield.