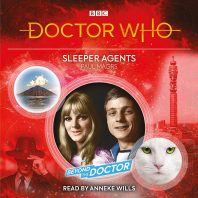 Released March 2022
SOME SPOILERS FOLLOW
Ben and Polly have just departed the company of the Doctor and Jamie at Gatwick Airport, and they must now return to their normal lives in 'Sleeper Agents' by Paul Magrs. They soon notice that everything is not as it should be, however, and they become entangled in a vast conspiracy in which their feelings for each other and their loyalty to the Doctor are their only chances at surviving.
In many ways, 'Sleeper Agents' is a repeat of the plot in 'London, 1965' as Ian and Barbara likewise found their attempts to rejoin London life guided by malevolent forces. However, whereas that previous story suffered from some questionable characterization of the leads in order to maintain a more indirect focus on the antagonistic Angela Leamann and Tobias Harmer, 'Sleeper Agents' wisely pushes through the inevitable feelings of uncertainty and even monotony following such wondrous adventures through time and space in order to fully integrate both Polly and Ben into the most detailed version of the scheme to capture the Doctor's former companions and turn them against him yet. That's not to say that more intimate moments featuring Ben and Polly are wholly absent; indeed, emotions are paramount throughout, and Ben's dejected certainty that Polly will no longer want to be friends with him given the different walks of life they come from after he steps into her home and sees her white carpets and china is a standout moment in a script filled with many that sees the two drawn inexorably closer. However, firmly detailing the villainous plot no matter how overly convoluted it may be is a necessary piece of the story that the previous instalments in this range have lacked and were unable able to fully overcome.
While targeting the Doctor through sleeper agents at points in time showing artron energy rather than by direct action is a questionable choice given the obvious power Leamann and Harmer possess, the incorporation of Polly's own cat into these affairs does firmly prove that the duo is committed to a wholly personal angle of attack. In that same vein, the mesmeric influence that Barbara endured previously becomes all the more important here as Ben's earlier experience under the Macra's control fuels Polly's own resolve. And while not quite enough is done to highlight Ben's own state of mind during this whole affair after they are taken to a far-off location given Polly's perspective taking precedence, the suggestion that Polly was unaware of the own influences being exerted over her is a striking element that shows how effectively the two antagonists can complement each other while apart. The two villains have become more effective with each successive story, and hopefully the final instalment can fully capitalize on the potential that this story finally shows them to have.
Anneke Wills is utterly brilliant in 'Sleeper Agents,' and while she has had ample opportunity to fully explore the character of Polly through Big Finish's audio releases, she expertly recaptures the vivaciousness, shrewdness, and compassion that has made Polly such an enduring presence. Likewise, Wills is superb as Ben, and she gently but effectively incorporates shades of Michael Craze's mannerisms to make this a wholly immersive experience that wonderfully explores the breadth of emotions at the core of their relationship that was so shaped by their time aboard the TARDIS. Without question, 'Sleeper Agents' is the first tale of Beyond the Doctor to truly capitalize on the threat that Harmer and Leamann possess, in part because of the emotions fueling Ben and Polly when directly rather than indirectly confronted, and the firm grasp Magrs has on this dynamic leading duo as well as the incredible vocal performance from Wills make this a standout release in any capacity that fans of the era should most definitely experience.
Release Date: 3/2022
Written by: Paul Magrs