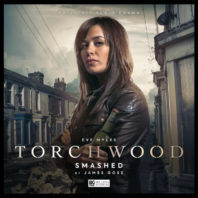 Released October 2019
SOME SPOILERS FOLLOW
Returning to the Torchwood fore for the first time since 'Night of the Fendahl' in James Goss's 'Smashed,' Gwen Cooper arrives in Glynteg to find out just why this quiet Welsh town that offered little more than alcohol following the closure of its refinery has suddenly seen so many of its citizens fall ill since the arrival of the Drillpak fracking operation and the spark of economic hope it brought with it.
As with most successful stories within the science fiction genre, 'Smashed' deftly incorporates real-world elements to dynamically and realistically develop its setting and atmosphere, here as the impact of this city's economic foundation collapsing is felt and the consequences of the controversial process that has taken its place is brought to light. The feelings of immediacy and believability these instill only further accentuate the clever central conceit that Gwen must confront as something ancient awakens beneath the ground that will do anything it can to protect itself. With even presumed foes themselves the victims of this mysterious force, the further tension injected into this morose setting in which the water table has been contaminated with only one option available to counter its effects in the body is magnificent and culminates in a truly gripping chase sequence that is anything but formulaic.
As is the case with most of these smaller-cast Torchwood productions, an extra emphasis is placed on each of the performances to deliver a sense of scale and impact no matter how intimate or grandiose the plot. And while it's likewise no surprise that Eve Myles gives a powerhouse performance as Gwen, the seeming ease and grace with which she is able to portray the many nuances of drunkenness without ever overacting and falling victim to the many tempting clichés that such a role presents is nonetheless impressive. With somewhat manically shifting tones and trips in speech befitting of an inebriated stupor, Myles is able to portray argumentativeness, pride, and confusion as needed without ever sacrificing the coherency of the character or plot as she fights to stay alive, proving in the process just how inherent her heroic intuition and tendencies are. Joining Myles amidst a small group of surviving but dejected Glynteg residents is the last standing eco-protester Martyn who is initially suspicious of newcomer Gwen but who quickly learns to trust her as a common motivation is found. Omar Austin is a natural in this role that blends good intentions with finding himself far outside of his depth, and his chemistry with Myles is perfectly engaging at all points as the two become unwitting allies in the face of mounting danger.
The monthly Torchwood range has quickly turned into one of Big Finish's most consistently enthralling as it jumps back and forth within the franchise's timeline and deftly brings so many different characters into the spotlight in any number of situations with their myriad of unique tones, and 'Smashed' absolutely continues that trend. Well-paced, well-acted, and well-directed with an engaging sound design that brings the desolation and danger to life so expertly, this is a strong standalone tale that utilizes its unique premise to maximum effect without ever going too far or sacrificing any narrative weight for unneeded comedy or filler.