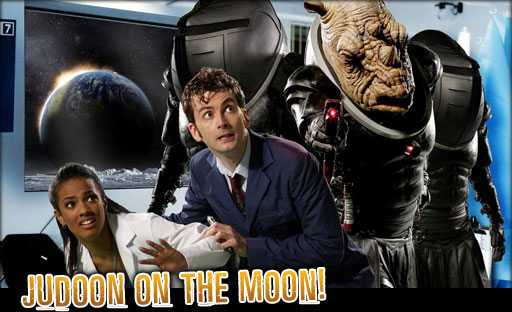 Aired 31 March 2007
'Smith and Jones' is another reboot of sorts for Doctor Who, a programme now needing to prove that it can survive for another full series without its incredibly popular leading lady as the Doctor continues to deal with the personal devastation of losing Rose.
Freema Agyeman steps into the companion's role as Martha Jones, and she gets off to a sterling start in this episode as she quickly proves that she is free-thinking, confident, and sassy, willing to believe in the unexplained and fantastic but not without questioning what's really happening. A bit less effective is the introduction of Martha's family. Not that Jackie and Mickey were instantly the most likeable of characters either, but they held an innate sort of charm and well-meaning that just doesn't come across as well in Martha's family. It's an interesting angle to have her family literally falling apart and her parents growing more separate, but that type of family relationship is simply too complex to dedicate enough time to thoroughly explore.
Despite that, Martha's sister Tish is played exceedingly well by Gugu Mbatha-Raw, lending and air of sanity to the otherwise senseless environment. Though Trevor Laird's Clive and Adjoa Andoh's Francine are both perfectly adequate in the roles of Martha's separated parents, but their strained relationship and incessant quarrelling quickly grows wearisome. Unfortunately, Francine is so derisive and confrontational about every minute detail that Clive comes off as the sympathetic figure even as he turns his attention to another woman.
Fortunately, the actual plot of 'Smith and Jones' works quite well, refreshing in its elegant simplicity as a blood-sucking alien masks herself with human DNA to hide away from an otherworldly police force at the hospital in which Martha interns. The reveal that the seemingly harmless Florence is, in fact, the Plasmavore is a nice subversion of expectations, and Anne Reid generally does well in incorporating more and more menace as the story progresses. Equally effective is the addition of the rhinoceros-like Judoon, the afore-mentioned police force, brought to life incredibly well by stellar costuming and voicework. Despite their menacing and war-like presence, though, there still remains a slight air of humour to their actions that actually enhances their on-screen debut and keeps them from being overwhelmingly militaristic.
'Smith and Jones' also features some superb CGI work, the landing of the hospital on the moon, the Judoon marching across the moon's surface to begin the search for their isolated alien vagrant, and the scorching disintegration of the patient who crosses a Judoon being particular highlights. Charles Palmer's strong direction choices and Russell T Davies's usual underlying humour are perfect in this tale, helping to create a rather robust experience in almost every facet.
David Tennant continues with his very strong performance as the more subdued and less manic Tenth Doctor first seen in 'The Runaway Bride.' He still has some moments of levity, specifically hopping around with his shoe off, but overall this is an actor and a character who have very much settled after a series of experimentation. The manner in which he sticks to the background, casually helping Martha figure out what's happening, works perfectly and helps to establish their friendship and respect for each other quite quickly. He gets to play a classic card in the Doctor's repertoire as well, playing the clueless buffoon to catch his foe off guard, and his confrontation with Florence is great. If this characterization of the Doctor continues, it bodes very well for the upcoming series in general.
So although the Doctor is still very overtly affected by the loss of Rose, occasionally seeming to turn on Marha as a result, 'Smith and Jones' successfully incorporates a new companion into the fold and tells a quick-paced and thoroughly enjoyable tale in the process, everything that could be asked of a series opener.