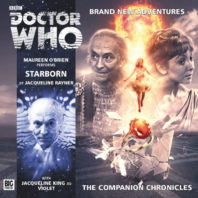 Released March 2014
Following their departure from Nero's Rome, the First Doctor, Ian, Barbara, and Vicki arrive in the early twentieth century whereupon Vicki receives a dire warning that she will die if she leaves the TARDIS. Given an audience by a local psychic who claims to be able to contact the spirits of those who have departed this mortal life, Vicki soon learns of a terrible fate awaiting her at the TARDIS's next destination in Jacqueline Rayner's 'Starborn.'
The character of Vicki has truly flourished throughout The Companion Chronicles whether in a starring or supporting role, and Maureen O'Brien delivers an incredibly impactful and nuanced performance in 'Starborn' as she brings forth one of the more complex but also clever framing devices this range has yet employed. Vicki is naturally skeptical of this medium's abilities, especially when her first point of contact just happens to be a man from the same Rome that she had just finished talking about, but as Vicki learns that she is speaking to herself from the future and the grim fate that doing so must entail, the uncertainty and distrust are slowly eroded away and Vicki's true compassion, fortitude, and insecurities are wonderfully laid bare for all to witness. Given how very young Vicki was when she joined the TARDIS, it's easy to forget just how much personal turmoil and loss she had already experienced by that time, and Rayner and O'Brien perfectly capture the emotion necessary to allow Vicki's past to resonate with both her present and presumed future.
As Vicki calls out seeming inconsistencies in the story she is being told to ensure both the audience and she remain on the same page, the tale of a civilisation that exists in symbiosis with the surrounding stars through a perpetual cycle of death and renewal is elegantly displayed and provides Vicki a young friend with whom she can talk to and confide in as the starborn Anet's time of sacrifice to ensure the society can continue on quickly approaches. Doctor Who frequently presents its threat early on, but 'Starborn' wisely allows this unique society and its rules to breathe and develop with no sense of urgency or need to stop some grand evil being thrust upon these people, and the attention to detail both in how this society and its chosen few function as well as how visitors must adjust to acclimatize work to create one of the more elegant affairs in recent memory. However, it's the sudden appearance of space pirates looking to drain the influx of power for their own means regardless of the devastating consequences for these people that suddenly thrusts Vicki into a more heroic role as her ultimate fate is effectively revealed.
Of course, the trouble with any type of story like this in which a character speaks from beyond the grave is that the audience knows that this is not how Vicki's tenure on the TARDIS reaches its conclusion, meaning that the eventual narrative swerve when the narrator's true identity is revealed is anything but. This does make the purposeful inconsistencies more glaring since the outcome is already known to some extent, but the medium's incorporation of disembodied voices as well as the unreliable narration manage to ensure that the audience's attention will not falter at any point. With solid direction and sound design and a memorable supporting performance from Jacqueline King as the medium who earnestly believes in her own abilities and genuinely means well, 'Starborn' may not deliver the most profound or surprising story in The Companion Chronicles, but it certainly features some of the most stimulating and engrossing narration to date and makes excellent use of Maureen O'Brien who continues to excel within this format.